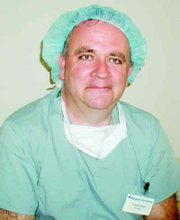 Sometimes it seems like Sunnyside City Councilwoman Carol Stone is everywhere, literally. She's at every ribbon cutting and almost any event that needs volunteers.
There's a reason for that and has everything to do with the way she was raised.
"My parents, especially my mom, felt there's always something you can do to make the world better, that doesn't take a lot of money...You can improve the world around you even with a smile," says Stone.
Growing up, Stone was known to keep busy by helping others, like mowing, raking leaves and shoveling snow for elderly neighbors. "We never had the word 'bored' in our house," she says.
Being a bigger gal, Stone always had a tendency to look out for those smaller than her, the underdog so to speak. "I don't know if it was because of my size or what," she said.
When Stone does volunteer she puts her all into it. "When I'm doing what I'm doing, I'm passionate about it. I can't go into (something) without putting everything I have into it."
Volunteering, she says, "Keeps you young, keeps you healthy and keeps you moving. Sometimes I wish I could do more."
Stone says she enjoys reading the "Neighbors" column in the Daily Sun News, which asks the subject being interviewed what he or she would do if they won $1 million dollars. She likes to ponder that question. "There are so many things, so many worthy organizations," says Stone.
She's passionate about Lower Valley Crisis and Support Center clients, the homeless and teens. She works with first time offenders in the juvenile justice program, which allows young offenders to be accountable to a board of volunteers.
Serving there, she says, is a way to connect not just with local youth, but with their parents, too.
She's been known to warn young offenders, "If you think I'm mean this time, if you ever come back, you're going to know what mean is." It's tough love, of sorts.
When volunteer opportunities arrive, Stone says she often thinks, "I can do this, too!"
Says Stone, "It's a way of learning, meeting new people, contributing to the world's betterment. I try to get everybody else on board, too."
Deep down, it's as much about her faith as it is the way she was raised.
"I have faith. I know I have a purpose. And when God takes me home, that's it."
Sunnyside Community Hospital's Tom Lathen is also driven by faith to volunteer. Not only can he be found volunteering right here at home, but he's known to travel to foreign countries through Rotary's Rotoplast program, changing the lives of people, mostly children, through surgery to correct deformities like cleft lips and palates.
Lathen has been on three Rotoplast missions. He's gone twice to Bolivia, once to Guatamala and, come March, he's off to China.
Lathen was first moved to work with Rotoplast when Ellensburg Rotarians came to his club to talk about an upcoming mission. The men spoke of the need for a photojournalist.
"Everybody turned to me and said why don't you do it. It started from there," recalls Lathen.
"When I stumbled into this work, it made me feel like it's work that really makes a difference in people's lives."
It impacted Lathen, too. "It's very rewarding. Rotoplast changed my life."
That's an understatement of sorts. Individuals in many third world countries born with cleft lips and palates are believed to be cursed by their peers and often shunned.
And, simply put, the change in appearance alone is shocking, as in the case of Augusta, a Guatamalan child. Lathen took before and after photos of the boy and, with the exception of his baseball cap, he's virtually unrecognizable after corrective surgery. That's what keeps Lathen inspired.
This past summer, he dug out the pictures, Augusta included, and presented them to the ladies of the United Methodist Church. His mission was to talk about the personal duty to volunteer.
"It lit a fire under me again," said Lathen. "I hadn't gone on a (Rotoplast) trip in four years."
Interestingly, about two weeks after the presentation, Lathen got a call, inviting him to the March 2009 mission in China. It wasn't long before he made the commitment to go.
Lathen said that for each Rotoplast mission, the cost is about $100,000 and $12,000 is still needed for the upcoming trip, as are quilts. "Every child that gets operated on gets a quilt."
His philosophy on volunteering spans the world. "We have very similar situations of poverty and need in our community. We have neighbors here and we have neighbors that are in need 30,000 miles away."