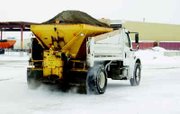 Winter snow has hit the Lower Valley and the cities of Sunnyside and Grandview say they're meeting the challenge.
"We're in great shape," says Jim Bridges, public works director for Sunnyside. Bridges said the city still has 4,000 gallons of liquid de-icer on hand, along with 50 tons of a sand and salt mixture.
Bridges said Sunnyside has more of the sand/salt mixture on order and it should arrive this week.
The city has spent $5,100 on snow removal so far in 2008 and has another $15,000 budgeted for snow removal in 2009.
As for the personnel required to go out on the weekends, like the one last week, Bridges said Sunnyside does not pay overtime, but rather offers comp time to be taken later on.
Without having overtime to worry about, Bridges said in a worst case scenario in which the city uses up its supply of de-icer and sand, Sunnyside would still be plowing the streets.
The decision to plow or not to plow starts with Sunnyside police who report in when their vehicles find it difficult to navigate the streets. After assessing the situation first hand, the city's street department then goes to work.
Bridges said the plowing and sanding begins on the major streets, or arterials, like Edison Avenue, Yakima Valley Highway and Lincoln Avenue. A priority is placed on clearing the roadway around the hospital as attention turns to major north/south streets like Sixth, Ninth and 16th streets.
Bridges said care is also taken to tend to truck routes on Fourth and Fifth streets.
City crews also sand the entire length of Harrison Hill, not just intersections as is done on most streets, because the combination of a steep incline and lack of sunshine on many parts of the road can keep it iced up longer.
In Sunnyside, there's more than just responding to the snow, but in forecasting ahead as the de-icer only works when there's no snow on the roadways. As a result Sunnyside crews have to apply the liquid before snowfall. Bridges said it is so effective that there have been low snow years in which the city didn't even have to use sand because the de-icer took care of the roads.
"We check weather all the time," says Bridges.
The snow removal budget in Grandview is tighter, where Public Works Director Santos Trevino says the city is at 120 percent of budget for 2008.
He said the city budgeted $16,000 for 2008, but much of that was spent last January during a month of heavy snowfall.
As of last month, the city spent $17,000 on snow removal and has been working diligently to keep costs down during the current storms afflicting the city.
Crews have been split and one man works weekends to keep roadways passable. The majority of streets are more easily traveled because heavier traffic compacts the snow, making the job easier for street crews, said Trevino.
Trevino said he has been keeping overtime hours at a minimum and his department purchased a one-ton pickup with a snow blade earlier this year to alleviate some costs associated with snow removal.
His crews haven't removed snow from some areas of Grandview, although there are inquiries from residents asking them to do so. "Others don't want us to do anything," said Trevino.
Public works employees have also distributed gravel and de-icer to some areas of the city, but those efforts are as minimal as possible to further keep costs down, according to Trevino.
"We really try to keep the arterials passable," he explained, stating the roads most traveled are the biggest concern of Grandview Public Works and the city's residents.