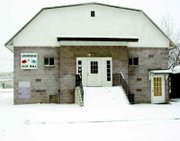 GRANDVIEW - Do good unto all.
That's the mantra behind the Oddfellows and Rebekahs, fraternal organizations for men and women.
But in today's day and age, fraternal organizations are struggling, namely Grandview's Independent Order of Oddfellows, the Red Apple Lodge.
Oddfellows built their lodge located at Fourth and Ash streets in Grandview in the 1960's, but due to dwindling membership were recently forced to sell it.
"We're not doing good at all," says longtime member George Devall.
The Oddfellows organization was formed in the 1700's, he said, and Grandview's chapter came into existence in the early 1900's.
According to his mother, Velma Devall, who's been a member for 50-plus years, it was Oddfellows members themselves who built the recently sold lodge. And, she recalls, "We had a mortgage burning ceremony in the 1970's."
The younger Devall said that Oddfellows was originally formed to "relieve the distressed, educate the orphans and bury the dead."
Over time, that's become difficult, especially with the formation of federal assistance programs and foster care programs.
Mrs. Devall remembers when Grandview Rebekahs, in an attempt to feed the hungry, would can food for the Oddfellows nursing home in Walla Walla. Eventually, state laws prohibited that.
Her son said that the "bury the dead" part of the mission was to help poverty stricken families of the deceased by burying loved ones in an Oddfellows cemetery if they couldn't afford services in a regular cemetery.
Grandview's organizations, both the Oddfellows and Rebekahs, used to deliver meals to locals during the holiday season, have donated to the library, given money to Grandview Dollars for Scholars, sponsored a baseball team and donated to the Fisher House, which is much like a Ronald McDonald house in that it houses families of hospitalized individuals.
Grandview's lodge even had hospital beds and wheelchairs to loan to its members. "We even had a wooden wheelchair, a real one," said Mrs. Devall.
Within the past few years, the Oddfellows would host fundraising breakfasts featuring ham, eggs and hashbrowns. But, say the Devalls, it got to the point where too few members would show up to help, so the breakfasts went by the wayside.
Today, says Mrs. Devall, "We're down to very few members. It's that way all across the state. Fraternal organizations, I think, are on their way out."
That's too bad, says Mrs. Devall, because the whole goal is to "do good unto all," and the number of those willing to be a part of it continues to dwindle.