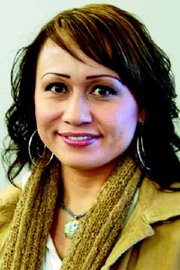 There's a saying that it "takes a village to raise a child," and that in effect is the task for Tamara Saluskin, a family to family social worker in the Sunnyside School District.
Saluskin was hired last month to fill the position, a grant-funded partnership between the school district and the state's Division of Children and Family Services.
The goal of the position is a "community approach for social work to benefit families," Saluskin says.
Specifically, Saluskin hopes to be able to place children who need to be in foster care - or are at risk for foster care - due to abuse or neglect in homes that are in their neighborhoods.
"Every time a child is moved to a new school it disrupts six months of their learning," Saluskin said.
The hope is to create a network of foster homes in each of Sunnyside's neighborhoods so they'll be available close by in case a child needs to be placed.
Saluskin says the ultimate goal is to keep families intact. Having foster homes available, if needed, in the same neighborhood will help that process while keeping the child in the same school. "It's hard to bring the family back together if they live in different areas."
Saluskin estimates there are 50 to 60 children in foster care in the Sunnyside School District. Her job is to not only help recruit and train new families to become foster parents, but to assist those who are already serving.
"It's important to maintain good relationships with the foster parents," she says.
That means everything from making sure training and reimbursement is provided, to helping out with car transportation from time to time.
Saluskin, a Wapato resident, has six years of experience in working with Children and Family Services.
The first-of-its-kind post here in Sunnyside is just the type of job she was looking for. Her previous experience, she said, focused on working individual cases.
Now, by contrast, she's working with the whole community and its neighborhoods. "It's a more holistic approach," she says.
For more information about the family to family program in the school district, or to learn more about being a foster parent, contact Saluskin through the school district's administrative office at 837-5851.