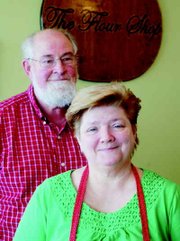 GRANDVIEW - Grandview native Laurie Charvet has been cooking since she was 11 years old.
For the past 20 years she and husband Ernie have been running Countryside Catering from their home on Sunnyside-Mabton Highway and for the past four years the Flour Shop restaurant in downtown Grandview.
That all changed this past Wednesday, Christmas Eve, as the Charvets closed up the catering and restaurant businesses.
Charvet said the business has been for sale and a prospective owner was found until the deal didn't work out.
She decided to stay by her decision to retire from the business at the end of this year, while keeping the business up for sale.
"I'm just going to close. I thought it was sold and had already set my dates for quitting," Charvet said. "It is for sale."
It was a team decision.
"Ernie sold the farm last year and he thought it was time to sell (the catering business)," she said.
The retirement marks the end of a family business at the 810 Second Street location in Grandview that is multiple generations. Charvet's mother previously ran a floral business at the same site, hence the name Flour Shop for the eatery.
There are memories and the people.
That's the part Laurie's going to miss the most is the people. "I enjoyed meeting them and there's a satisfaction in cooking food for people and making them happy," she says.
Charvet was quick to give credit to her 11 employees, without whom she says she never could have stayed in business for so long.
Whether it is providing cookies for a city of Sunnyside reception or a full-out banquet, the Flour Shop and Countryside Catering have created a following over the years.
But that's all history now. The Charvets will still keep the cottage up and running next to their house and will have it available for reservations for special events.
The only difference now is that Charvet won't be catering those events.
"I'm going to sleep," Charvet said of her first priority after closing the business. After 20 years of often working 20-hour days, she's earned it.
The Charvets also plan to travel and visit family.
Laurie Charvet won't have to travel far for some of those visits.
Thinking of the long days both she and Ernie put in for the catering business and farm, respectively, Charvet noted with a smile, "I'll get to be re-acquainted with my husband."