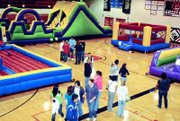 Teens from Sunnyside, Grandview and Granger can find themselves bringing in the New Year at the annual Midnight Live event at Sunnyside High School Wednesday, Dec. 31.
The event, hosted by Sunnyside's Promise, law enforcement agencies throughout the Lower Yakima Valley and area businesses, is promised to be filled with activities, such as watching a movie, dancing, bingo, a mini casino and an inflatable obstacle course.
The evening's events will begin at 8 p.m., according to Sunnyside's Promise Director Lisa Fairbairn. She said the doors will be closed for admission at 10 p.m. for teens wishing to participate.
Movies, games and activities will be featured at the event. The movies have been selected by the students of Sunnyside High School's leadership class, which is organizing the event. They are also setting aside an area for popular video games such as "Dance, Dance Revolution," "Guitar Hero" and other games teens enjoy.
Fairbairn said the group has arranged to have two live bands perform at Midnight Live, and they are looking to provide inflatable games.
Youngsters will be provided with beverages and snacks throughout the evening, and she said prizes will be given away, with a grand prize to be presented close to 12:30 p.m.
The event will conclude at that time.
Fairbairn said, "This event is a good way to help the leadership students earn money for their impending trip to Washington D.C. in February."
She said many businesses throughout the community donate prizes and it would not be the same without their support. However, prize donations are still welcome and volunteers are still needed. "The adults have fun, too," she noted.
Midnight Live is offered as an alternative for youths seeking an alcohol and drug-free New Year's Eve at the cost of $5. Participants are encouraged to bring student ID and a camera to the event.
Fairbairn noted that there will be a no return policy in effect.
For more information, to provide donations or to volunteer, contact Fairbairn at 836-8417 or 840-3763.