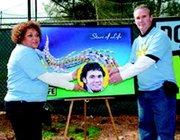 PASADENA, CALIF. - A float bearing the likeness of B.J. Miller will wind its way through the streets of Pasadena, Calif. on New Year's Day, during the annual Rose Bowl Parade.
Miller, remembered as a popular student-athlete at Sunnyside High School, died at the age of 19 as the result of a motor vehicle accident in October 2007 on I-82, near Prosser. His parents, John and Daria Miller, consented to his wish to donate his organs at the time of his death.
The Millers, since then, have become advocates in encouraging people to become organ donors.
Miller's likeness will be one of 34 floragraphs that will be featured on the Stars of Life float in tomorrow's Rose Bowl Parade, which kicks off at 8 a.m. on Thursday morning. The parade is being aired on several television channels.
"B.J.'s star will be on the top of the front right panel of the float," said the late teen's biggest fan, his mother Daria by phone from Southern California this past Tuesday afternoon.
The Millers will be on hand to view the parade tomorrow. It is their second recent trip to Pasadena, as they trekked there several weeks ago to take part in creating their son's floragraph for the float.
Mrs. Miller said those who tune in on the television tomorrow and catch a glimpse of the Stars of Life float should know that those people they see aboard the float are recent recipients of organ donations.
For the Sunnyside couple, themselves, it is rewarding knowing their son's generous, selfless act of donating his organs has meant the lives of three others have been extended.
"We've now heard from all three people who have benefited from B.J.'s donations," said Mrs. Miller, the last organ recipient having contacted the couple this past Christmas.