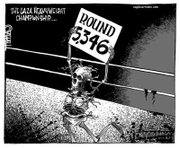 I can't imagine what it must be like to grow up an Israeli. To have people so close to your country that want you dead for no other reason besides religion must be scary. To have people actually attack Israeli soil almost every single day must be frustrating.
So it is with great respect that I acknowledge the restraint Israel has shown since 2000 when the trouble in the disputed Palestinian areas rekindled. Of course that restraint was more likely obedience to Israel's American masters but still they must be given credit. But enough is enough.
Israel has recently moved its forces into offensive positions in the Gaza Strip in retaliation to the political group Hamas firing missiles into Israel. Some estimates put civilian causalities at around 65 from the recent violence and that is unfortunate, but I still think the Israelis should be turned loose.
It is ludicrous for the Bush Administration to caution Israel and urge them and the Palestinians to maintain a cease fire. It is apparent to me a cease fire is no longer a viable option, especially when it is only the Israelis who honor it.
I don't blame the Palestinian people for Hamas' action even though they did vote that terrorist group into power. There are a bunch of issues that led to the sweeping elections of Hamas representatives and I personally don't think they should be blamed for that.
But in the absence of a total uprising from the people of Gaza I say let the Israeli army do its thing. Can anyone blame them? If the citizens of El Paso, Texas were receiving daily missile attacks from drug gangs in Ciudad Juarez would we as Americans allow anyone to urge us to remain calm and honor a cease fire?
I don't think so. I think Juarez would be a smoldering ruin.
So Bush, and the incoming Obama Administration, should recognize Israel's right to defend itself and the Israel government should start doing it. Hamas should be destroyed and extreme measures should be taken if necessary.
Peace may never come to the Middle East but the Israelis should be able to live without the constant threat of a terrorist missile landing in their front yards.
&nbsp