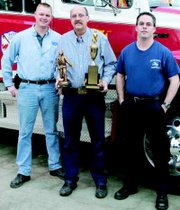 At its annual banquet earlier this month the Sunnyside Fire Department presented three firefighters with awards.
Ryan Savage was given the career firefighter of the year award, Alan Van Beek was named the volunteer firefighter of the year and Chad Werkhoven earned the top responder of the year for volunteer firefighters.
Sunnyside Fire Chief Aaron Markham said the award winners were picked by their peers.
"It's typically people who've gone above and beyond their duties," he said.
Savage has been with the Sunnyside Fire Department for a year and a half and Markham said he is just an outstanding employee who is well liked by everyone on the staff. He noted that Savage was one of those rare employees who passed his probationary period without any problems.
Sunnyside Fire Captain Bill Harris echoed Markham's praise.
"He's a hard worker," Harris said of Savage. "He comes in every day with a good attitude. That sets a good example for everybody else. He's a top notch guy."
Markham said Van Beek volunteers at more than one station and has been with the city since 2002.
"It takes quite a bit of dedication to be a volunteer for one station, let alone two," Markham said.
Markham added that all volunteers must volunteer for at least one 12-hour shift at least once a month. This allows full coverage when full-time firefighters are out sick or on vacation. Van Beek is known for volunteering several times a month.
Werkhoven has been close to winning the top responder award for some time, according to Markham. The award is given to the volunteer firefighter who responds the most to calls. This year Werkhoven responded to 27 general alarm calls, which was tops among all volunteers.
"We really appreciate his willingness to respond," Markham said. "He runs a business in town and has a family."
Markham added that both Werkhoven and Van Beek were late to the annual banquet this year because both were out fighting a haystack fire in the county.