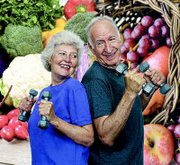 Each New Year many resolve to lose weight and many do not succeed on a long-term basis...if they succeed at all.
More important than a diet is eating healthy and getting exercise, according to Sunnyside Community Hospital's Registered Dietician, Andrea Cloudt.
She said people who want to lose weight often do not set realistic goals for themselves. "It is not a good idea, for example, to try to lose a lot of weight at once," she stated.
Instead, she suggests setting a goal of losing 5 to 10 percent of one's body weight at a time. Once that goal has been reached, the person can set the same goal based on the weight they have reached.
Eating healthy foods, such as fruits and vegetables, can help a person achieve their weight-loss goals. It is also beneficial for those seeking to improve their overall health.
"Many Americans don't get enough fruits and vegetables in their meal plan," said Cloudt. Instead, meal plans contain a lot of carbohydrates and foods high in fats and sugars.
Reducing fatty foods will not only reduce calories, but it will prolong one's life, according to Cloudt.
"Chronic disease risks should be reduced in this way," she said.
Another way to promote weight loss and improve overall health is through exercise. "More calories are expended and muscles are built up for an increase in metabolic rate," said Cloudt, adding the heart is among the muscles strengthened through regular exercise.
She said exercise also helps a person suffering from mood disorders, providing them with a happier disposition.
Bone density is also improved through regular exercise and Cloudt said regular consumption of dairy products low in fat or with no fat are great sources of calcium that will further improve bone density. "For those who like whole milk, there is skim supreme which provides the consistency of whole milk," she said.
To keep track of one's eating habits, Cloudt suggests a food journal. She said it helps track the portions and dietary habits of an individual, providing a greater awareness of the foods and beverages consumed on a regular basis. "It may be enlightening in the way of how little fruit and vegetables are eaten," she stated.
She said skipping meals is an absolute "no-no." Instead, she advises a person eats small, frequent meals or three well-rounded meals per day.
"Think of any dietary goal, whether it be to lose weight or to control a health issue, as a lifestyle change, not a diet," Cloudt said.
She said being mindful of one's eating habits is the first step to controlling any health concern or issue and maintaining weight, especially as a person's metabolism changes throughout the aging process.
Cloudt also advises that anyone wishing to obtain profession advice regarding diet and exercise should visit their personal physician and get a referral to a registered dietician such as herself.