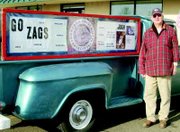 George Johnson is better known as Sunnyside's last milk man, but the Grandview Avenue resident and wife Carol are also the grandparents of Josh Heytvelt, a center/forward for the Gonzaga University men's basketball team.
Heytvelt has overcome a broken foot during the 2007-08 season and returned for a fifth year to currently lead the Zags in scoring (15 points per game), rebounding (six per game) and shooting (56 percent from the field and 46 percent from three-point range).
"The bone didn't heal right so they had to fix it again," Johnson said. "He's looking healthy again."
The versatile big man is the son of Rolin and Michelle (Johnson) Heytvelt. Michelle graduated from Sunnyside High School and the Heytvelt family is from Clarkston.
Gonzaga (8-3) was ranked as high as fourth this season in the nation before a loss to Portland State dropped them to 16th in the latest polls.
Johnson is so proud of his grandson that instead of just posting a sign in front of his Sunnyside home as he's done in the past, he has now posted two big signs on his 1961 pick-up truck.
He smiles and says the signs came about after working around in his garage and "I didn't know when to quit."
The Johnsons hope to see one of Heytvelt's games in this his final year at Gonzaga.
"We were going to go last Tuesday but they got 30 inches of snow in Spokane," Johnson says. He indicated he and his wife may try again to catch a game this spring when Gonzaga has its senior night contest.
As for Heytvelt's future plans, including a possible shot at the NBA, Johnson smiled and said the last time he heard, his grandson "will deal with that when he gets to that point."
After all, the Zags haven't even started league play yet.
"The real season is just getting started," said Johnson.