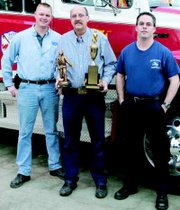 COULEE DAM - The Mabton Viking grapplers traveled to Coulee Dam yesterday (Tuesday) and earned the championship trophy in the Powerhouse Tournament hosted by Lake Roosevelt High School.
Eight teams competed in the tournament and the Vikings had a total of seven grapplers in the championship round. Three of those were victorious in securing top honors.
At 125 lbs., Luis Aviles of Mabton earned a first round victory over Lindsay Vargas of Lake Roosevelt by a 12-10 decision. He went on to pin Jeff Condon of Omak in 3:28, securing the championship in the second round of competition.
"Luis was the champion (in his weight class) by a quarter to 12," commented Mabton Coach John Kilian.
He explained many of the brackets were small and the grapplers competed in a "round robin" style.
Mabton's Carlos Mendez (119 lbs.) earned the next championship. He pinned both Michael Huckins of Omak and Dustin Hastings of Kettle Falls in 25 seconds and 1:05, respectively.
"Carlos was pretty pleased and we celebrated the victory after the tournament," Kilian said, stating this was Mendez's first ever championship win.
In the 171-lb. weight class, Angelo Salinas of the Vikings "kept his undefeated streak alive with two close wins." Kilian said, "Both matches were nail biters...it was a good day for him."
Salinas grappled with Dylan Green of Omak for a 3-1 victory and Almira Coulee Hartline's Mike Rehn had him work to the last second for a 10-9 decision in the second round.
Salinas' season record improved to 13-0 as a result of the two victories.
Four Vikes came away from the Powerhouse Tournament with runner-up honors.
Viking Eric Meza lost his first bout 9-3 to Randy Gross of Lake Roosevelt. He battled back from that defeat with a pin over Rainier's Michael Davis in 1:15 in the 130-lb. weight class.
Andy Rivera (140 lbs.) of Mabton pinned his first two opponents of the tournament, but suffered a loss by pin by Warden's Hector Camacho in 2:32.
Mabton's Arturo Nunez pinned Connor Howe of Omak in 18 seconds in the 135-lb. weight class. The second match-up proved more difficult as Sam Suarez of Warden earned a 16-4 decision over Nunez.
In the 215-lb. weight class, Viking Damien Marquez pinned his first two opponents, David Martinez and Christian Mabry of Warden, only to lose a close finals match to Almira Coulee Hartline's Reid Ashley by a 2-1 decision.
"Damien had a good day and a good, hard-fought battle," commented Kilian.
Earning third place honors for the Vikes were Jerry Quesada (103 lbs.), Fabian Ruiz (135 lbs.) and Sal Lopez (189 lbs.).
The Vikings had a couple of grapplers competing in four-round brackets. Alonzo Garcia (145 lbs.) and Eric Huesca (285 lbs.) both earned fourth place honors in those brackets.
"Unfortunately, this tournament was not a real strong one...it was nice to bring home a first place trophy, but we aren't fooling ourselves into believing we don't still have to work for every win," said Kilian.
The Vikings hit the mat again when they travel to Freeman for a tournament this coming Saturday, Jan. 3.