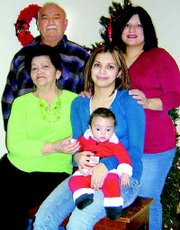 Sunnyside's Patina family had a special photo opportunity recently in capturing five generations on film.
Elvira G. Patina and her late husband, Florentino Patina, had their first child, Florentino (Tino) Jr. in 1946. They moved to the Sunnyside area nearly 45 years ago.
In 1968 Elvira went back to school. She worked as a nursing assistant in Valley Memorial and Sunnyside Community hospitals for 23 years, before retiring in 1991 due to health problems.
Altogether, there have been nine children, 31 grandchildren and 81 great-grandchildren born into the Patina family.
Her eldest son, Tino, has a daughter, Elia P. Vargas, who gave birth to Nadya Pena, who gave birth last August to Elvira's first great-great-grandchild, Danny Manuel Moreno III.
That, in turn, created the five-generation photo opportunity this past Christmas.
More like this story