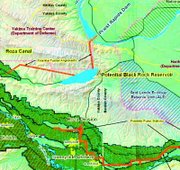 The numbers don't add up, says former Congressman Sid Morrison, a supporter of the Black Rock Reservoir proposed for construction near Sunnyside.
Morrison's response is to a recently completed feasibility study conducted by the federal Bureau of Reclamation. The study states that Black Rock would generate just over $1 billion in benefits over the next 100 years, but would cost $6.7 billion over that same time span.
"Frankly, I thought there were a number of topics that could have made the report more usable," says Morrison, co-chair of the Yakima Basin Storage Alliance.
As an example, Morrison says the report doesn't deal with what he sees as an economic windfall that could come from Black Rock.
"There would be economic impact from recreation and development," Morrison says of plusses missing from the report. He noted the bureau's scope of work focusing on water storage did not provide for detailing economic benefits.
Morrison also took to task another element of the report regarding fish.
The good news for Black Rock supporters is that the bureau found it feasible to build a dam at the proposed Black Rock site, and that it would meet goals of improving the reliability of the water supply during dry years, as well as improving some fish habitat and providing water to meet future municipal demands.
The bad news, and where Morrison and the YBSA differ with the feasibility report, is an endorsement of no action by Fish and Wildlife officials concerned with the loss of shrub-steppe habitat and the threat it sees to animals in the area due to development and increased human activity.
"The Bureau of Reclamation wrestled mightily with the fish issue," says Morrison. He claims $1 billion is already spent annually on salmon restoration and "we're not getting anything out of it."
Morrison says Black Rock would benefit fish and wildlife. "If you do the work of restoring habitat along the tributaries of the Yakima River, the water that is released and made available is going to be a dynamic impact on fish."
Morrison and Black Rock supporters would also like to see more discussion about power generation possibilities for the reservoir. "A pump storage facility is a wonderful opportunity," he says. "It's a storage battery."
Developing a sustainable water supply for the Yakima River basin cannot wait, says Charlie de La Chapelle, a Yakima Valley farmer and YBSA member. He notes that the Yakima Basin has not added any water storage infrastructure since 1933.
"We have been incrementally trying to fix the region's water issues for decades," de La Chapelle notes. "Progress is being made, but with climate change and measurable increases in droughts affecting the region we don't have the luxury of waiting."
Morrison feels the bureau is likely to come up with a final finding not recommending any action.
Even so, he says the YBSA is still pushing for federal funding and developing a network of groups in support of Black Rock.
"The Bureau of Reclamation hasn't recommended any project since the Carter administration," Morrison claims. "The Grand Coulee dam never would have been built if the bureau worked under the same guidelines it has today."
The public has an opportunity to weigh in on Black Rock and other options for water storage at a pair of open houses later this month. The first will be Wednesday, Feb. 27, at the Yakima Convention Center and the second is Feb. 28 at the Three Rivers Convention Center in Kennewick.
Both open houses are scheduled to run from 1 to 2 p.m. and 6 to 7 p.m., with hearings held from 2 to 4 p.m. and 7 to 9 p.m.
Comments can also be e-mailed to storagestudy@pn.usbr.gov.
.