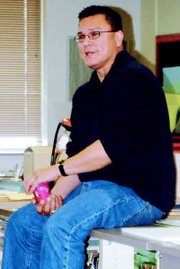 "Where you start is not as important as where you end," Simon Silva, renowned artist, told Sunnyside High School students in Sal Martinez's art classroom yesterday.
He visited all six periods of art, delivering his message to students, giving them a sense of hope.
Silva grew up as a migrant student and felt his life was unimportant. He told the students he did not feel his parents valued him as he was growing up, however he strove to earn his education.
He asked students in Martinez's class why they were in school and what they believed success meant, stating there are many answers for those two questions.
"Everybody deserves an education to find out who they are, why they are important and what really matters," Silva stated, explaining that each person is unique and important. He said it is just a matter of what makes the person unique and important.
He said he discovered he is unique through his artistic efforts and believes he holds a special responsibility as an artist.
"Art is a form of problem solving," Silva said to the students.
He said through art a person can work through feelings they may be experiencing and a person can take those feelings to another level.
"You can change the world through art," Silva noted.
His world was transformed through his art because he utilized it to cope with adversity.
"My parents fought all the time and I just drew until it was over as a matter of survival," Silva shared.
He said the road of his life was not easy. His father became angry at the prospect of Silva's dream to attend college. He said he had also bought into the "lie" that something was wrong with him because he was a migrant student.
But, he put forth the effort to attend college and earned his art degree.
"I still felt insignificant because my parents didn't attend my graduation," Silva said.
He later discovered that it was not that he was insignificant to his parents so much as they had a feeling of being scared, embarrassed and threatened by his success.
Silva said after college he needed to figure out how he was important, explaining a person could be highly intelligent or athletic "...but that is not what makes them unique."
He explained each person carries with them different experiences and attributes. It is discovering the importance of the experiences and attributes that makes a person unique because "...what a person doesn't know is what can be harmful."
Understanding a situation can also lead to an understanding of one's self, according to Silva.
He explained that he didn't understand why his parents painted their house a bright "lemon yellow." It was later in life, when he visited Mexico City, that he discovered the color choice was based in culture.
Silva told the students he had been embarrassed by the color of his house until he discovered the importance of it.
"What a person must do is evaluate their priorities and value. Find out if it influences you positively or negatively," he said, explaining that doing so can provide a person with a sense of purpose and value.
Silva instructed the students to find a balance in their lives and to pursue their education through reading and discovering who they are. He noted that a person isn't only educated because they attend school, but when they discover who they are and what is important to them.
"My favorite word is 'effort.' It takes effort to reach your goals," Silva said.