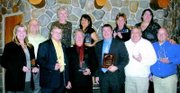 Humility and people skills are just some of the traits the Sunnyside City Council is seeking when it goes about searching for a new city manager.
That was part of the discussion council had this past Saturday during a work session to set the groundwork for hiring a new city manager.
Other city manager priorities discussed included honesty, compassion, a focus on economic and downtown development, as well as experience in city management and writing grants.
Council decided to form a screening committee of three council members and Grandview City Administrator Scott Staples, who is assisting the city with its search.
Once candidates are identified, council is also looking to form a screening committee made up of five to seven members. The committee will include Mayor Paul Garcia, Staples, and a combination of local leaders in the Sunnyside community.
The public will also be invited to participate in the city manager selection process, as finalists for the position will attend a community reception.
Councilwoman Theresa Hancock said the reception would be an opportunity to not only meet the finalists, but for community members to submit questions.
The Sunnyside City Council will take up the city manager hiring process again during another special meeting planned for Friday, Feb. 15, at 3 p.m., with the location still to be determined.