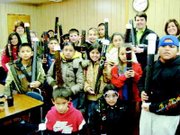 Chief Kamiakin Elementary School students have a unique opportunity in the "CK Morning Club," an extra 40 minutes added into the day just for fun.
According to art teacher Kathy Cullen, the extra time in the morning allows for either educational projects or good, old fashioned fun.
"Sometimes it's just fun stuff, extracurricular, that we don't have time for during the day," said Cullen.
Cullen heads up the class with fellow teachers Brad Barwell and Deana Dalton.
Recently, students could be found making their very own rain sticks, a decorated tube with either rice or beans inside that makes a tropical rain forest-type sound.
Other recent projects included playing the drums and singing programs. This past week, students also put their measuring skills to the test. "This week, we made goo and slime," said Cullen.
All third through fifth grade students are invited to participate in the morning club. All that's required is a permission slip from parents.
The morning club meets from 7:30 to 8:10 a.m.
For more information, call the school at 837-6444.