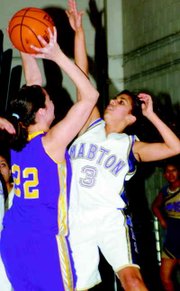 MABTON - A three-point loss to Goldendale last night in the final league game of the season leaves the Mabton High School girls basketball team tied with White Swan for the fifth and final berth into the District playoffs.
A tiebreaker game between Mabton and White Swan, with the loser calling it quits for the season and the winner moving on to the postseason, will be played tonight (Friday) in Granger, starting at 6 p.m.
"It's a matter of what we bring to the table," Mabton Coach Mike Roettger said of his team's chances in stopping White Swan this evening. "It's going to boil down to who wants it more."
The Lady Vikings dropped a 46-38 decision to White Swan on the Cougars' home floor back in mid-December, but avenged that loss with a 65-55 decision over White Swan in Mabton a month later.
Heading into tonight's tiebreaker contest, the Lady Vikes know they'll have to contain Shelby Strom, the heart-and-soul of this year's Cougars squad.
"We'll diamond-and-one the Strom girl," said Roettger. "But it's going to be tough. We're short-handed."
Missing tonight will be Mabton's second leading scorer, Trishi Williams, who regularly sits out Friday night games because of her religious beliefs. Also gone will be the team's leading rebounder, Monica Tellez, just recently ruled academically ineligible.
Should Mabton (6-8, 11-9) prevail tonight, the Lady Vikes would advance to take on the Ki-Be Bears in Benton City tomorrow (Saturday). That contest is also a loser-out affair.
Mabton could have avoided tonight's loser-out tiebreaker game had the team defeated Goldendale last night. Instead, the Timberwolves pulled out a 68-65 victory on the Lady Vikings' home floor.
"It's not that we played poorly last night," said Roettger. "We just had a tough time getting defensive stops.
"We weren't doing the little things...weak-side help, shuffling our feet and sliding in front of a player, getting a hand up in their face."
The Lady Vikes actually took control early on, grabbing a 16-10 first quarter lead enroute to going into intermission up 33-28.
The start of the second half, however, is when Mabton began to unravel.
"We came out flat in the third quarter," said Roettger. "They hit a three right off the bat, then went on a 9-0 run."
The Lady Vikes fought back and were still in the game late, but after going a respectable 14-for-20 from the free throw line in the first 30 minutes and 15 seconds of the game, missed six straight foul shots in the final minute and 45 seconds.
"Yeah, we had our opportunities," said Roettger. "We make those free throws at the end, maybe it's a different outcome."
Mabton had one last-ditch shot of averting a loss when freshman Melissa Gutierrez got a wide open look at the basket from behind the 3-point arc, but her bomb at the buzzer rolled around the rim and bounced off.
Goldendale's two post players, Kayla Graff and Monica DeRushe, led the Timberwolves last night with 18 and 17 points, respectively. Goldendale point guard Tracy Bailey added a 15-point effort.
Mabton was paced by the game-high 19 points of Ana Jimenez. The Lady Vikes also got 13 and 11 points, respectively, from Williams and Theresa Flores. Also scoring for Mabton were Debbie Enriquez and Kayla Campbell with seven and six points, respectively, Crysta Reynolds with five, Brisi Enriquez with three points and Gutierrez with one.