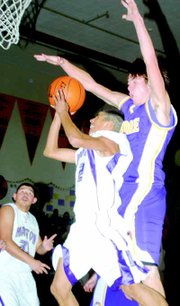 MABTON - A foul with less than a second left proved to be the undoing for the Mabton High School boys basketball team in a 42-41 loss last night.
In the final seconds of the Thursday night regular season finale, Mabton and visiting Goldendale were tied 41-41. The Vikes attempted to hold the ball for a final shot, but a jump ball gave the ball back to the Timberwolves with 2.7 seconds left.
A Mabton player ran into a Goldendale opponent on the ensuing desperation pass, putting the Timberwolves at the line with seven-tenths of a second remaining. Goldendale's Tanner Milliren then canned one of two free throws to provide the winning margin.
All of this transpired when Mabton's J.T. Reynolds gave the Vikes the lead with a putback bucket with a minute to play to make it a 41-39 lead for the Vikes. Mitch Dove answered for Goldendale to set up the final second fireworks.
"Our crowd was great last night," said Mabton Coach Brock Ledgerwood. "They gave us a good home court advantage and the student body got loud when Goldendale was attempting those free throws at the end."
Despite the loss, Ledgerwood said "it was one of the best games we played all year and we played four very good quarters."
Mabton trailed by three after one quarter and was within one, 22-21, at the half. After Goldendale built a 37-32 lead after three quarters, Mabton rallied with a 9-2 run, capped by Reynolds' rebound bucket.
Tyler Herrera and Kristian Carrasco led a balanced Mabton attack with 11 points each, while Reynolds poured in 10 points to go with a team-high eight rebounds. Herrera also had five assists, and teammate Juventino Morfin recorded four steals.
The Timberwolves were led by Jacob Denney and Nick Dohrman with 11 and 10 points, respectively. Dove led Goldendale in the paint with a game-high 12 rebounds.
Ledgerwood said part of the story last night was missed opportunities. "We missed some easy opportunities that would have given us the lead in the first half," he said.
The coach also noted, though, that his squad played a solid defensive game.
"I was extremely happy with our defense throughout," said Ledgerwood. "We have struggled to hold teams under 45 points all year, but we showed up defensively tonight (Thursday)."
The loss drops Mabton into fifth place in the SCAC West at 7-7 in league play and 8-12 overall.
Mabton now must play a loser-out contest at Kiona-Benton tomorrow, Saturday. The winner advances into the SCAC District tourney.
Ledgerwood explained that both the West and East portions of the conference qualify four teams for Districts, but since the West has one more team its fifth-place team, in this case Mabton, can play the SCAC East's fourth seed in a bid to take that berth in the playoffs.
If Mabton wins, it will play at top seeded White Swan next Tuesday.
Mabton has already beaten the Cougars twice this season, but a third contest would be a battle, says Ledgerwood. "It's tough to beat a good team three times in one season."