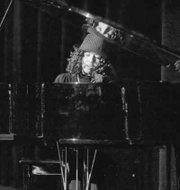 Sunnyside High School freshman Lainey Rodriguez didn't expect to win the ninth annual Sunnyside High School Hospice Benefit Talent Show held this past Friday at Sunnyside High School.
"I just wanted to do my best and show people the talent God gave me," she said.
Rodriguez did just that, giving a piano and vocal performance that wowed the judges and earned her first place honors in the show. The song she performed is called Enderly and it's a piece she wrote herself.
"I chose it because it is one of the first songs I wrote," she explained.
The song is about experiencing heartbreak and being able to move on. Rodriguez said she is working on a solo album and hopes to have it ready by sometime next summer.
Second place honors were awarded to Natalie Alvarez and Magali and Mical Moreno, who performed an interpretive dance. The crowd exploded with applause when the trio was finished.
Nabbing the third place award was Gracen Gonzalez, who performed Cupid Choke Hold and Burrito Boy.
The talent show was presented by the Sunnyside leadership class and $3,000 was raised for Lower Valley Hospice. A total of 19 acts performed.
The acts ranged from dancing and singing to a comedy skit.
.