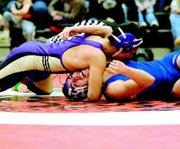 ZILLAH - As Mabton's Eli Perez was signing his score card after securing a championship at this past Saturday's 1A Regional wrestling tournament, a towel tapper asked him if he even broke a sweat in his latest match. Perez just smiled.
It looked that easy as Perez (285 lbs.) pinned Cle Elum's Marshall Allenbaugh in 1:30 in the title bout. That win gave Perez his 32nd win of the season versus just one loss and sets the stage for a showdown with Kalama High School's Sean McDonald at the State tournament this coming weekend.
Perez will be joined by three other Vikings at next week's big show in Tacoma. Eric Meza (119 lbs.), Andy Rivera (135 lbs.) and Angleo Salinas (160 lbs.) were all invited, too.
Perez began his quest for a Regional championship by beating Wahluke High School's Warren DeVictoria by a pin in less than a minute. Nursing a back injury suffered earlier in the week, Perez then took it easy in his next match and settled on a 7-0 decision over Naches Valley High School's Jacob Stiles.
"Eli was happy just to get the win," Mabton Coach John Kilian said. "He had a comfortable lead and took it easy."
That win set up the match with Allenbaugh and the possible showdown with McDonald, who will have the number one seed at State. Perez is seeded No. 2 and if the two meet, it will be in the finals.
Perez squeaked out a one-point win against McDonald at State last year to propel himself into the finals, where he lost and had to settle for second place honors. Perez received four stalling points from McDonald in last year's State semi-finals.
Perez said this year's different.
"I don't know, I want it a lot more this year," he said.
Meza earned a second place finish at Saturday's Regional Tournament in Zillah. He went 2-1 on the day, starting with a win over David Montes of Connell High School.
After one round Meza led 10-3.
"He started losing points in the second round," Kilian said. "It was crazy. He took an easy victory and made it a battle."
Meza, who admitted he had a bad day at the tournament, held on for an 18-12 win.
"He didn't look like the usual Eric," Kilian said. "He wasn't sharp."
He advanced to the finals by pinning Earl Moody of Columbia Burbank High School, setting up a final match with Royal High School's Juan Esquivel.
Meza said Esquivel likes to be aggressive but get tired as the match unfolds. Meza's strategy was to hang on until the final round and make his move.
"Eric beat him (Esquivel) 12-5 at the Royal Rumble," Kilian said.
It was not to be a repeat as Esquivel started aggressively and didn't let up, garnering a 12-5 major decision over Meza.
Salinas went 2-2 for the Vikings. He had an opportunity to take third place but was pinned by Warden High School's Scott Phillips and settled for fourth.
Rivera also went 2-2 and took fifth place at the Regional tournament. He came from behind to pin Warden High School's Kameron Tamayo to make it to the big show.
Kilian said he was happy with his team's efforts. Mabton took six wrestlers to Regionals and Kilian said getting four to State was a good outcome.
Out of the 14 teams participating at the Regional tournament, the Vikings finished in 10th. The top three teams were Royal, Warden and Granger high schools.