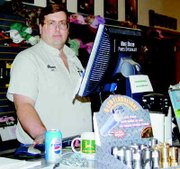 Will RDO Equipment Parts Specialist Mike Boob don a sombrero come spring time? He just might, as he's won a coveted company prize: an all expenses paid cruise on the Caribbean Sea, which will include a stop in Cozumel, Mexico.
RDO Equipment has 68 locations in the United States and Russia. All told, only 76 individuals working for the company received the honor this year.
"It's not even a competition," said Sunnyside RDO Parts Manager Dennis Carter. "It's all voted on by peers."
Boob's fellow employees nominated him for his exceptional contributions to customers, as well as his camaraderie with fellow staff members.
"Dedication to customer service is his biggest thing," said Carter. "Whether it's across the counter or in the shop, he's top notch."
Boob has been with RDO for just a year. "We were lucky to get him," said Carter.
Boob said that the company is paying for the trip, including the expenses associated with obtaining a passport. He also will not have to use any vacation time.
Now, Boob and his wife Sherri are finding themselves doing something they never dreamt of doing: shopping for formal wear. Boob will buy a tux for the recognition dinner on the cruise and his wife will buy a formal gown.
Even now, Boob said, "It just hasn't sunk in."
But, one thing he knows for certain: "RDO is just a great place to work."