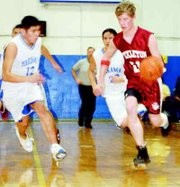 TOPPENISH - The Bickleton boys basketball season has come to an end following a 51-46 loss to Yakama Tribal.
"We fought hard, but (Cody) Loomis not being there hurt us," Coach Rick Palmer said of Tuesday evening's regular season finale.
Loomis was suspended from last night's game after being ejected from this past Monday night's game.
Yakama Tribal advances to tonight's 1B District tourney in Goldendale, while the Pirates' season comes to a close.
Bickleton had a three-point lead over Yakama Tribal going into the half.
Palmer said, "We had dug a hole (in the first quarter), then came back up." But Yakama Tribal outscored Bickleton in the third quarter 22-11.
Bickleton's height advantage wasn't enough to win. And the fact that the Pirates had 34 turnovers didn't help matters any.
"They put pressure on us the whole game," said Palmer. "At times we did well and other times we struggled."
Bickleton's Eric Hess was in double digits for the night, scoring 24 points and grabbing 20 boards. Edgar Molena had a double-double as well, scoring 11 points and garnering 10 boards.
Bickleton's Junior Hernandez scored five points, while Andrew Venema and Craig Osborne each scored three.
Bickleton finished the 2007-08 campaign with a 1-10 league mark, 6-11 overall.