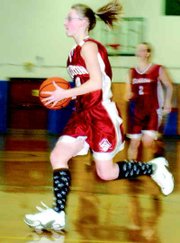 TOPPENISH - Bickleton traveled to Toppenish last night and faced Yakama Tribal in an inspirational game.
The Lady Pirates were down through the third quarter, in which they had fallen to a 10-point deficit.
Rallying from behind in the third quarter, Bickleton stopped the Eagles. The Lady Pirates were able to hold Yakama Tribal at 33 points until there was just more than four-and-a-half minutes in the fourth quarter, when Candace Eyle of Yakama Tribal broke the hold with a three-point shot.
Undeterred, the Lady Pirates turned up the intensity of the game, earning points and making baskets. The pressure was intense, but Bickleton continued with its defensive full-court press.
"When we are good in defense, it brings out our best offense," said Tom Whitmore.
He was genuinely pleased with the performance of his team, stating he is looking forward to tonight's first round of Districts in Goldendale.
"We needed something (a win) for some momentum," Whitmore stated.
Bickleton's Katelynn Clinton once again lit up the scoreboard with 24 points for the Lady Pirates. She earned 19 of those points and snatched 10 offensive rebounds in the second half of the game. She had a total of 15 boards in the game.
Johanna Jensen also did well for the Lady Pirates, earning 12 rebounds. Of those, nine were in the second half.
The Lady Pirates (4-7, 10-8) face Trout Lake/Glenwood tonight at the Columbia Gorge League District competition. Although Whitmore believes the Lady Pirates may feel some fatigue from three games played this week, he feels the team is capable of pulling out a win tonight.