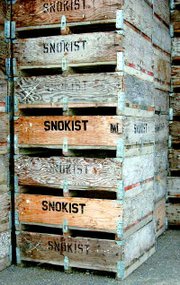 Snokist Growers President Jim Davis isn't sure how long his company has had plants in Grandview.
"For the last 60 years at least," he said.
That tenure has officially ended as the Snokist management team implemented a resolution passed last November and cut its fresh fruit packing business.
Davis said that side of the business only represented 25 percent, with the canning side taking up 75 percent of the business.
Snokist had two plants in Grandview. The No. 1 plant was converted into cold storage a couple of years ago and has since been leased to Columbia Cold Storage.
Plant No. 2 has been idle since last summer, when cherries were packed. Davis said this plant will be taken over by Gilbert Orchards next month in March, where cherries and pears will continue to be packed. The handful of employees that were still at plant No. 2 will transfer over to Gilbert Orchards.
Exiting the fresh fruit packing business will allow Snokist to fully concentrate efforts and direct resources to the processed, canned and aseptic product lines of the company, according to a press release.
For some time Snokist has been operating a fruit bowl line, which produces fruit blends, high and low acid products and gelatins. Snokist feels these products have tremendous growth potential in single serving packaging, industrial ingredients for the food industry and value added items.
Besides the plant in Grandview, Snokist owns 10 acres of land on Port of Grandview property. This will be sold, as well as its Mead Avenue plant in Yakima.
"Change is never easy, yet we are energized by the prospect of focusing on our company's core strength," Davis said in the press release. "The new direction and vision is very clear, to be a profitable, grower owned, packaged fruit company. Snokist will strengthen the ongoing commitment to the private label programs of our customers with unique products, partnerships and personalized customer service."
Davis said Snokist has set a goal to introduce at least four new products each year. Already their red and green salsas have been going well. Davis said Snokist also plans to introduce fruit sorbets and fruit salsas this year, as well.
With the new product lines Davis said he expects the business to grow by 10 to 15 percent, which will open employment opportunities.
"As we grow we'll need more and more staff," Davis added.