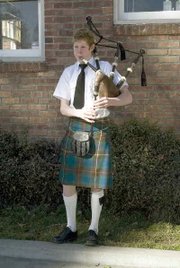 If you live on the hill in Sunnyside and hear the sweet sound of bagpipes wafting through the air, it's probably not someone's TV set playing the movie Braveheart too loudly. More than likely it's just 16-year-old Jarrett Rice conducting his daily practice lessons.
And if you see a young man walking down Grandview Avenue in a dress, don't worry, it's not a dress, it's just young Jarrett in his Desert Thistle Pipe Band uniform, kilt and all.
Rice is one of the youngest members of the Celtic band that's been tearing it up since 1976. Based in the Tri-Cities, Rice and the Desert Thistle Pipe Band have been playing with each other for three years.
Rice said he became interested in the bagpipes from listening to Celtic music every morning at breakfast with his dad. They would listen to many different kinds of instruments but it was just one that caught the ear of the younger Rice.
"I remember thinking I wanted to play those bagpipes," Rice remembered. "The sound was so rare, not many people play the bagpipes."
He noted he has a cousin that plays the violin and his sisters play the piano (which he was not interested in doing) but no one in the family ripped on the bagpipes.
The other deciding factor was the 'noise factor' as Rice calls it, which simply put is "solemn."
His choice of instrument was settled.
But now the search began to find someone to teach Rice how to play the bagpipes. As the young man noted, "...not many people play the bagpipes."
According to Rice, he and his family searched for "years" looking for a bagpipe instructor.
"I started to lose hope," he confessed.
Then one day one of his father's co-workers brought some welcome news. She knew of a band that played the bagpipes and they practiced at a park in Richland. Better yet, she knew the name of this band.
The news kept getting better when Rice's mother contacted the Desert Thistle Pipe Band and was told that not only do they teach bagpipe lessons, they do it at no charge.
There was a catch, though. If the band gave Rice lessons he would have to join the band. The band put up two arguments for this reasoning. If the band gave lessons for free it would encourage people to give the bagpipes a go. Also, by requiring them to play in the band, the Desert Thistle Pipe Band can live on for years to come.
Rice was convinced. He wasn't able to jump into playing with the band right away, having to learn how to play first. He started learning on a piece of equipment called the chanter. This is a straight shaped object resembling a flute. The young piper spent a year learning the proper notes and a few songs. He was then ready for the bagpipes.
Rice has now been playing for three years and tries to practice every day. In the spring and summer, when it's warm outside, he will spread the joy of Celtic music and serenade his neighbors.
"Quite a few people like it, I think," he said.
Although there are a few exceptions. "Sometimes kids will drive by and tell me to shut up."
But young Jarrett is not to be discouraged, playing harder and louder when he receives this encouragement.
Rice wants to continue on with his bagpipes and get better. He would even like to attend a college with a bagpipe band. If he can't, Rice will continue on his own. He realizes it might be difficult to track down fellow pipers so he hasn't ruled out teaching others of the wonders of bagpipes someday.
"I would like to," he said. "It would require me to work harder."
On Saturday, Feb. 23, the 11 pipers, three snare drummers, two bass drummers and two tenor drummers that make up the Desert Thistle Pipe Band will take the stage at Chief Joseph Middle School in Richland at 7:30 p.m. for the 29th annual Evening of Scottish and Celtic Music.