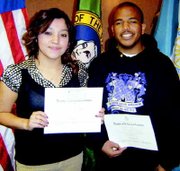 Area high school students were recently recognized as Outstanding High School Seniors by the Narcissa Whitman chapter of the Daughters of the American Revolution.
Students are recognized based on recommendations from school counselors regarding the individual's dependability, service, leadership and patriotism.
The outstanding seniors are given a certificate and a Daughters of the American Revolution pin.
Lower Valley students recognized with the honor were treated to an awards ceremony and entertainment at the Red Lion in Yakima. They included Mariela Osorio from the school formerly known as PRIDE, Melissa Stamschror of Sunnyside High School, Jason Friend of Sunnyside Christian, Cecilia Sanchez of Mabton High School, Nicholas Huecias of Mabton's Focus High School, Jessica Gonzalez-Pena of Grandview High School, Michaela Longoria of Grandview's Compass High School, Abilene Caballero of Granger High School and Anthony Winkelman of Granger Alternative School.