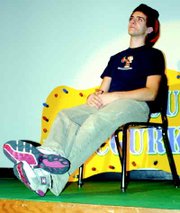 You don't have to be the cat in a hat or regularly dine on green eggs and ham to feast on Sunnyside High School's upcoming musical production Seussical, which features popular Dr. Seuss characters from his treasured children's books.
The musical features popular Dr. Seuss characters The Cat in the Hat, Horton and Jojo from Horton Hears a Who, and Gertrude McFuzz from The One Feather Tail of Miss Gertrude McFuzz.
The Cat in the Hat, played by Matt Barr, narrates throughout the musical.
Colorful props and lively characters make up the stage, where Riley Moore's depiction of Horton is transported to New York City and auctioned off to a circus. He remembers how he couldn't save Jojo (portrayed by Cassie Herndon) or the Whos and decides to save the egg he guards throughout the story.
He and Gertrude (played by Emily Shuttleworth) develop a close bond and help one another throughout the fascinating tale.
It is a story that will delight audiences both young and old, with strange twists and an entertaining plot that takes its audience through a journey that incorporates characters familiar to many Dr. Seuss fans.
The musical, directed by Corey Murphey, will take place at the high school auditorium on Friday, Feb. 22, and Saturday, Feb. 23, at 7 p.m., Thursday, Feb. 28, at 6 p.m., Friday, Feb. 29, and Saturday, March 1, at 7 p.m.
Ticket costs are $3 for students and senior citizens and $6 for adults.