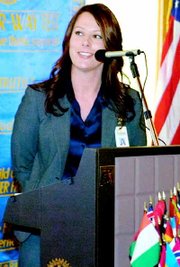 An increase in the number of patients Sunnyside Community Hospital sees on a daily basis was just one of several reasons the hospital's emergency room department was expanded, Elizabeth Bonham told the Sunnyside Noon Rotary Club members earlier this week.
Bonham, the emergency room department manager and trauma coordinator, outlined to Rotarians the changes in the ER.
She said the growing number of patients translated to long wait times for the ER patients. The trauma rooms were out of date and room to store equipment was limited.
"Today we have the team and the resources to meet these needs," said Bonham.
The ER now has two state of the art trauma rooms. Inside these rooms are enough space to store an EKG, Bi PaD and x-ray machine.
One way the hospital saved time is by switching to a computerized form of chart instead of paper charts. Also, if medicine needed to be given to a patient a lot of paperwork was needed. Now, medicine is dispensed from a machine. The machine reads the fingerprints of whoever is requesting the medicine to get authorization.
Before this new system medicines had to be inventoried after each shift. Now the computer does that. When medicinal supplies are low the computer sends a message to the pharmacy.
There are two entrances to the ER now, one for patients and one for ambulances. The ER is now more secure as well, with access controlled in the entryways.
Because farming is big in the Lower Valley, a decontamination shower was installed with an outside entrance. This keeps the inside of the ER department from being exposed to pesticides or other chemicals.
A quiet room was installed to give families an area in times of distress. Before the ER expansion, this wasn't available and families were left to grieve with others around them.
The new expansion is just in time. Bonham told the Rotarians there were 1,387 patients seen in January 2007. That number jumped to 2,038 in January 2008. Bonham said 24,000 visits are expected this year.
The wait time to be seen in January 2007 was 39 minutes. Hospital staff have been able to lower the wait time to 26 minutes in January 2008.
Bonham said the goal is to get the wait time lowered even further.