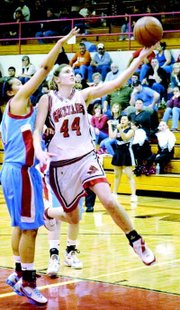 Going into last Friday's game with second place West Valley, the Sunnyside girls basketball team still had a chance to make it to Districts.
Needing an Eastmont loss coupled with a win over the visiting Rams would have set up a playoff with Eastmont for the sixth and final spot into the District tournament this week.
Luck smiled on the Lady Grizzlies when Eastmont lost, but Sunnyside fell hard to West Valley, 69-25. Sunnyside was missing four varsity players for undisclosed reasons and had to call up Toni Castillo and Destiny Maya, two JV players, to fill the missing gaps.
The Rams wasted no time as they jumped to a 14-3 first quarter lead, holding Sunnyside to just Katie Wutzke's three-point shot in the first minute of play.
"West Valley is the number two team in our league," Sunnyside Coach Eric Berg said. "We were undermanned and West Valley likes to press you."
The Rams kept up its press the entire first half, building a 38-12 lead by halftime.
"The girls played hard and did the best they could," Berg added.
Sunnyside's Kayla Rollinger got into foul trouble early in the first half and Wutzke followed in the second quarter.
"That kind of hurts when you only have eight players," Berg said.
The Lady Grizzlies also had a hard time with West Valley's Haley Curtis, who scored 10 of her 12 points in the second quarter.
West Valley called off its press to start the second half but the damage had been done. Sunnyside could only manage five points in the quarter, a three by Wutzke and a field goal by Kelsey Rollinger.
"They did what they could," Berg said of his depleted team. "There is only so much you can do when you're missing parts."
Since it was senior night Berg took an opportunity with six seconds left in the game to pull Kayla Rollinger and Victoria Ramos out of the game. Each received a standing ovation from the crowd.
Sunnyside finishes its season with a record of 1-19 overall.
"We're going to keep working," Berg said of next year's team. "Hopefully we get a spring team together and play a lot of basketball and work on fundamentals. We'll work throughout the summer to get better."
West Valley 14 24 19 12 -69
Sunnyside 3 9 5 8 -25
FG-West Valley 19/53, Sunnyside 7/39. 3-PT FG-West Valley 6/17 (Larson 3, Bealer 2, Toner), Sunnyside 2/9 (Wutzke 2). FT-West
Valley 13/20, Sunnyside 5/14. RBD-West Valley 50, Sunnyside 44. TO-West Valley 11, Sunnyside 24.
West Valley-L. Bealer 6, K. Curry 0, H. Curtis 12, T. Fannin 6, T. Herzog 3, A. Larson 13, E. Richardson 14, K. Sillery 7, K. Toner 3, Q. Winkfield 0.
Sunnyside-T. Castillo 0, D. Maya 2, V. Ramos 2, Kayla Rollinger 7, Kelsey Rollinger 3, M. Tyler 1, S. Wright 2, K. Wutzke 8.