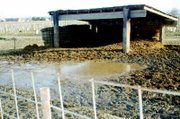 Sunnyside's Paul and Anna Warmenhoven's five, 300-pound pigs were just a week away from slaughter when the unthinkable happened. An area rottweiler/pit bull mix got into the pig pen and attacked all five, leaving one dead and the other four seriously maimed.
Mr. Warmenhoven found the damage, and the dog, this past Friday morning when he went out to feed the pigs.
"I knew something was wrong, because they always come to me when I feed them. I walked down there and he (the dog) stood up like, 'I'll get you, too'," said Mr. Warmenhoven.
Mrs. Warmenhoven said, "The poor things were laying there, suffering terribly."
Mrs. Warmenhoven said she first called the Yakima County Sheriff's Department, who advised the Warmenhovens they were within their rights to shoot and kill the dog if it appeared threatening.
They also called around, trying to find someone to shoot the pigs and haul them off.
Mr. Warmenhoven said all of the pigs were spoken for, with five families waiting to purchase them to put food on the table. He added that once a dog gets ahold of a pig in that manner, the pigs can't be slaughtered for meat.
The Warmenhovens found the dog's owner, and were financially compensated for the loss.
Mrs. Warmenhoven said she walks the couple's puppy in the area every morning, and the compensation for the pigs could have easily been compensation for a hospital bill. "I could've been down there. You can't imagine what might have happened."
The Warmenhovens are concerned with what they see as a dog problem in the county. "There needs to be stricter laws," said Mrs. Warmenhoven. "They should have a law that if you've got a dog, it's got to be spayed or neutered."