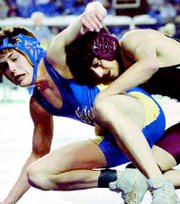 TACOMA - Grandview's only wrestler to travel to the 2A State tourney in Tacoma this past Friday and Saturday, Santos Guillen, brought home a sixth place medal.
Guillen, who wrestles in the 103-lb. weight division, had a weekend of ups and downs, according to Grandview Coach Jeff Sevigny.
"Friday was definitely a day of ups," he said of Guillen's performance at State.
Sevigny said Guillen faced Logan Hixson of Kingston High School in his first bout. Hixson was a number one seed from region two, but that was not a factor for Guillen. The Grandview grappler controlled the match from the opening whistle and earned a fall in the second period.
Guillen moved into the quarterfinals Friday afternoon and earned a pin over the number three seed from region three, Kyle Godfrey of Aberdeen, in 3:47 in the second period of the bout.
The win, according to Sevigny, assured Guillen of no less than sixth place honors.
Saturday did not go as well for the Greyhound wrestler. Sevigny said, "Saturday ended up being the day of downs."
Guillen wrestled a tough bout against Drew Acorn of Deer Park, the number one seed from region four and third place finisher at the 2007 State wrestling championships.
"Though he wrestled a tough match, Santos was just not able to keep up with Acorn and fell by a score of 9-0," said Sevigny, who added that Acorn went on to earn the championship in the 103-lb. weight division.
Guillen moved into the consolation semifinal brackets as a result of the loss to Acorn.
He had a number of mistakes in his bout against Ruslan Cox of Pullman, however was able to tie the dual going into the third period.
"His (Guillen's) third starting position caution cost him a point, and then, a mistake late in the match cost him the win," Sevigny recalled, saying Cox earned the victory over Guillen by fall at 4:44.
Guillen's final bout was for either fifth or sixth place honors, and his opponent was Enrique Medina of Burlington Edison High School.
According to Sevigny, the bout was a "...back and forth match." He said Guillen was able to tie the bout with a takedown with less than two seconds remaining.
However, Guillen relaxed a second too early and gave up a reversal as time ran out to fall by a score of 8-6, said Sevigny.
He said he felt Guillen "...wrestled an outstanding State tournament. With just a couple breaks in his favor, he would have brought home a third place finish."
Sevigny said the Grandview junior picked up a lot of experience in the State competitions and has plans of returning next season with higher goals.