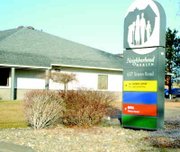 Following a remodel late last year, Neighborhood Health Services in Sunnyside has expanded its services to include a dental clinic.
After a two-month remodeling process, three dental chairs were added toward the back of the building and became operational this past November.
"It seemed like there was a lack of resources for people to have a dental home," said Sunnyside Operations Manager Janine Grenz, adding that low income people had a difficult time scheduling appointments elsewhere, because only so many appointments for low income families are available each month.
Public Health Administrator for Yakima Neighborhood Health Services Mary Jo Mengarelli said that the Sunnyside clinic caters to the needs of the entire community, not just those who have a low income.
"We reach out to provide dental care to everyone in the community," Mengarelli said.
In addition to accepting Medicaid, the clinic also has a sliding fee scale for families.
Soothing handmade quilts can be found throughout the building, located at 617 Scoon Road. This includes each area where the three dental chairs are located. The quilts are courtesy of Grenz's sister, Kim Penttila of the Tri-Cities. Grenz said it makes the clinic have a more "homey" feel.
The dental portion of the clinic is open Mondays through Thursdays, and is home to one dentist and two assistants. A hygienist also visits the clinic one day a week. Grenz said there are about 16 dental patients a day, or 22 when the hygienist visits.
In addition to the dental clinic, Neighborhood Health Services also provides maternity support and services, and administers the WIC (Women, Infants and Children) program. They have an in-house dietitian.