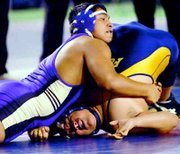 TACOMA - It wasn't a first place finish but third is nothing to sneeze at.
Mabton High School's Eli Perez (285 lbs.) stumbled in the semi-finals and had to settle for third place honors this past weekend at the 20th Mat Classic.
Perez and teammate Eric Meza (119 lbs.) brought home hardware for the Vikings.
Perez began his quest for the 1A State wrestling title by beating Joey Salazar of Forks High School with a pin in 1:06. He then pinned Matt Combs of Montesano High School to advance to Saturday's matches.
On Saturday Perez lost to Jacob Stiles of Naches Valley High School by a pin in 2:53.
"That was shocking," Mabton Coach John Kilian said. "Eli has beaten him two or three times this year. We were thinking what in the world just happened."
The loss knocked Perez out of the title race and put him in the loser's bracket. He scored pins over Josh Brazil (Tonasket High School) and Sean McDonald (Kalama High School) to grab third place honors. Perez finished 36-2 for the year.
Meza went 3-3 at last weekend's Mat Classic and finished in sixth place. He started out last Friday losing to Jake Luczynski of Cascade High School by a pin.
Meza then scored two pins over Ki-Be's Evan Olinger and Newport High School's Corbin Chitwood to move into Saturday's brackets.
On Saturday Meza beat Carlos DeLeon of Granger High School 4-1.
"Eric handled him pretty well," Kilian said. "He got a takedown in the first round and then wrestled a pretty good match after that to get the win."
Meza then lost to Garrett Mann of Orting High School by pin, which put him into the match for fifth and sixth place. Meza lost 8-5 to Blake Adams of Castle Rock High School and settled for sixth.
Mabton sent two other wrestlers to the State tournament. Andy Rivera (135 lbs.) and Angelo Salinas (160 lbs.) both finished 1-2 at the tournament and were knocked out on Friday.
Mabton finished in 16h place as a team.
"It wasn't that bad," Kilian said. "We finished better than a lot of other schools in our region."
.