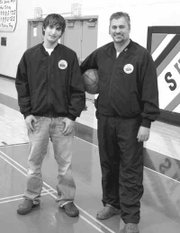 Russ Taylor has been a basketball referee for the last 22 years. He got involved in the 1970s when he was a high school basketball player at Sunnyside High School.
"Back then we never used to have enough referees," Taylor said. "Me and my teammates would ref the junior high games."
Partly because of his love for basketball, and partly to stay involved, Taylor became a referee for the Yakima Valley Basketball Officials Association (YVBOA) approximately seven years after high school. He's been doing it ever since and for the last three years, he's been doing it with his son, Tim.
When Russ would officiate games he would always bring his son with him. "I grew up around it," Tim claims.
So it wasn't that surprising when the younger Taylor picked officiating the game over playing it and became certified as a basketball referee with the YVBOA when he was just a sophomore at Sunnyside High School.
Taylor started out small, learning the rules with AAU basketball tournaments and leagues.
"It was hard at first," he admits. "Just being out there in front of everyone. If you made a mistake, it could change the outcome of the game."
A lot of pressure for a 30-year-old man, let alone a sophomore in high school.
Under the tutelage of his father, rule clinics and association general meetings, Tim eventually came into his own. He said he became accustomed to the speed of the game and learned to tune out the constant chatter from fans.
"At first I let it get to me," he said of hecklers in the crowd. "I finally realized I was going to get it whatever I did. I learned to block it out."
As Russ watched his son progress into becoming a referee he admits it was challenging when he son was heckled. For the most part, he let his son handle it on his own.
"There is a fine line," Russ explained. "I don't care if it's my son or not. There comes a certain point where you have to protect your partner. Sometimes you have to let it go."
When Russ would work with his son he let the fans yell as much as they wanted to until it became personal.
Tim eventually moved on to officiating middle school games and then high school games for the WIAA. By then he started to come into his own as a ref.
"Tim is very good at talking to coaches," his father added.
He's also good at standing up for himself now. Russ remembered one coach who, angry at one of Tim's calls, suggested Tim cut his hair so he could see the game better. Tim calmly brushed the hair out of his eyes before handing the belligerent coach a technical foul.
Tim was able to ref his first varsity game this season.
"He was real good," Russ said of his son's performance. "He was strong. Some young officials are hesitant to make calls. Sometimes it's easier to let things go."
Russ was able to officiate his first varsity game after being a referee for three years and that was the benchmark Tim set for himself.
Tim will be graduating from high school this year and he hopes to continue to ref when he's in college. He's set 10 years as the benchmark for officiating a college game.
He hasn't ruled out someday being a ref for an NBA game but admits he's not looking that far ahead.
For now, the young Taylor will continue to hone his skills on the court under the helpful eye of his father.