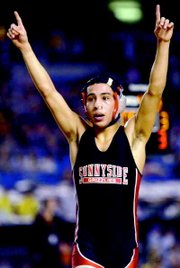 TACOMA - The fourth time was the charm for Sunnyside High School senior Isaac Romero.
After previously finishing in the runner-up spot three years in a row, Romero captured championship honors for the Grizzly wrestling team in the 112-lb. weight class during the 3A State wrestling tourney held this past weekend in the Tacoma Dome.
It was part of a seventh-place showing for the Grizzlies, two spots better than last year.
Sunnyside collected 92 team points in the field of nearly 70 schools, which was topped by Enumclaw's total of 124.5 points.
"Your goal is to always place in the top eight," said Sunnyside Coach George Paulus. "Any time you place in the top 10 you're looking at a good day."
By placing seventh, Paulus said Sunnyside earned a team plaque that will be displayed at the high school.
Romero did his part to help the Grizzly team effort in rolling through his first two rounds, a 12-4 victory and a pin, before rallying for crucial wins in the semifinals and finals.
In the semis, Romero rallied from a 5-3 deficit with just 90 seconds left in the match to record a 6-5 decision over Billy Richardson of Bremerton. Romero sealed his fourth trip to the finals with an escape to close within 5-4, then recorded a takedown for the winning points with less than 30 seconds left.
That set up an equally taut contest in the finals against Patrick Mucha of North Thurston.
"It was the most nerve-wracking, the most scary match I've ever watched," said Paulus.
Romero trailed 2-0 in the first round after Mucha recorded a takedown.
"Isaac let it fly after that," Paulus noted. In the second stanza, Romero earned a penalty point when Mucha locked his hands around the Grizzly's waist, and then scored what proved to be the winning points on a two-point reversal to lead 3-2.
That set up a tense third period, as Mucha tried to tie or regain the advantage.
"With one minute to go it got crazy, he (Mucha) was moving 90 miles per hour and Isaac countered back and forth," Paulus recalled.
Romero, who closed out his high school career with a Yakima Valley record of 148 wins, held on for the victory and his first State title. "He did all the right moves, everything he needed to do to win," Paulus said. "It was a pretty emotional experience at the end of the match."
A second Romero brother, Steven, also claimed a State title at 103 lbs. Romero pinned his first three opponents at State, tying a school record of 23 pins in one season, previously set by Carlos Garcia in 1997. "That was a motivator for Steven, I was glad to see that," Paulus said of the pin record. "When Steven goes out and tries to pin someone he's aggressive instead of being conservative."
Romero's three pins set the stage for the title match at 103 lbs., in which he handled Dylan Hyder of Yelm by recording a 6-1 decision.
Paulus had high hopes for a third Romero brother, Josh, a freshman wrestler at 119 lbs. who, like his older brothers, was a Subregional and Regional champ.
But those hopes came crashing down when Romero lost twice on the first day of action Friday and failed to medal.
Things started promising enough for the youngest Romero brother with a first round pin. He lost his next two matches, though, and was eliminated. The first loss was a 2-1 heartbreaker in triple overtime to Kelly Maughan of Auburn. Romero lost his next match 5-4 to Matt Mehlbrech of East Valley of Spokane, a wrestler he handily defeated at Subregionals and Regionals.
"He just got real conservative and he didn't take the guy seriously," Paulus said of the shocking defeat.
"When Josh got eliminated Friday night it was like a death in the family," Paulus recalled.
There wasn't much time to mourn the loss though, as Sunnyside's J.T. Gonzalez wrestled his way to the finals in the 135-lb. weight class.
Gonzalez cruised through his first three matches, but found trouble in the final in the person of Sedro Wooley's Kevin O'Neil, who built a 5-2 lead before pinning the Sunnyside senior in the second period.
It marked just the second loss for Gonzalez on the season compared to 41 wins. "He won 41 matches and was Subregional and Regional champion. He had a pretty good season," Paulus said of Gonzalez's campaign.
While Josh Romero's ouster from the tourney was a disappointment, Sunnyside enjoyed a better than expected outcome for Danny Alvarez (152 lbs.), who earned a sixth-place medal for his efforts.
After opening with a victory followed by an 18-3 loss to eventual champion Eric Jones of Auburn-Riverside, Alvarez decisioned Emilio Bowers of Yelm by an 8-5 margin to clinch a spot in the medal round.
On Saturday Alvarez was wrestling for a shot at the third-fourth place match, when an unfortunate call went against him. Paulus said Alvarez was leading Sumner's Jake Grant 3-2 with just two seconds remaining when the official penalized Alvarez a match-tying point for allegedly stalling.
"We were upset about that," Paulus said. "Danny shot at that kid seven times and all the kid tried to do was throw him sideways. Danny was aggressive the whole match. It was a ridiculous call and I blew my stack."
After losing to Grant in overtime, Alvarez advanced to the fifth-sixth place match, where he lost 5-1 to Michael Robbins of Eastmont.
"Danny put together a high quality tournament and pulled out some close matches," Paulus said of the sixth-place showing by Alvarez. "He exceeded our expectations."
Sunnyside's fifth and final individual medal came at 103 lbs., where Christian Reyes earned eighth-place honors.
"He wrestled his heart out and got a medal," said Paulus, who noted that Reyes unexpectedly had to wrestle a qualifying match to get into the State competition because West Seattle's wrestlers did not make it to Regionals due to the weather.
Reyes took care of the surprise qualifier, known as a pigtail match, then prevailed 8-6 in overtime over West Seattle's Chris Morson in first-round action. After losing 11-1 to Riley Miller of Kelso, Reyes punched his ticket to the medal round with a 9-0 win over Issaquah's Ty Morton.
Sunnyside's other two wrestlers at State, Emmanuel Tejeda (125 lbs.) and Shawn Olivarez (130 lbs.), were eliminated in Friday's preliminary competition.
Though Paulus was pleased with his team's overall effort, he went into State competition hoping to equal or better 1997's third-place showing at State.
"Had Josh (Romero) placed third that would have been 12 points," Paulus noted. "When we lost him that was probably a trophy that went out the window."
Make no mistake about it, though, the Grizzlies are pleased with seventh place, proud to make the elite eight and earn a team plaque.
Paulus and the Grizzlies are already looking forward to next year.
Not only are five of the top 10 teams from State moving out of 3A and up to 4A next year, Sunnyside will return five of its State qualifiers, Josh and Steven Romero, as well as Tejeda, Reyes and Olivarez.
"We'll have a State champion coming back next year and these other guys will build on their State experience," Paulus said of the 08-09 campaign. "We'll be in good shape."
.