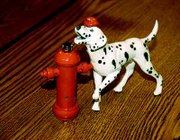 YAKIMA - A flashing lady bug, a micro-sized pool table, a miniature race car.
They appear to be toys, and that's the problem, Yakima County Fire Marshal Jakki MacLean says of novelty lighters.
Yesterday, MacLean and fire officials from around Yakima County presented the case to county commissioners for banning the toy-like lighters.
Commissioners agreed during the Tuesday morning hearing that the lighters, which range in shape from a toilet to poker chips, are too tempting for children to play with and accidentally ignite and start a fire.
Yakima County commissioners are expected within the next two weeks to approve a formal ordinance banning the sale of novelty lighters in all unincorporated areas.
In the Lower Valley that would mean Outlook and areas just outside the city limits of Sunnyside, Mabton and Grandview would be impacted by the ban. A violation of the ban could result in a $1,000 fine or 90 days in jail or both.
MacLean said the push to ban the lighters follows an example previously set by the city of Yakima. She noted that fire service officials are joining in a nationwide effort to prohibit the toy lighters, often found at convenience stores.
"We're not going to be the lighter police," MacLean assured commissioners. "When we do code enforcement we'll be looking for them." She added, "These clearly look like toys and there's no reason for a lighter to look like a toy."
MacLean said the ban would not extend to regular lighters.
City of Yakima Deputy Fire Marshal Ron Melcher said the toy lighters have become an issue in the U.S. over the past year after they were banned in Europe. Since then, he explained, China has been marketing the lighters in the U.S.
"Yakima County is not a dumping ground for dangerous toys," said County Commissioner Mike Leita in giving his nod for the ban. He described the "essence" of the ban as "safety and common sense and doing the right thing."
Leita also wants to see what he terms "the right thing" expand to include all of Yakima County.
"I'm asking the other cities (in Yakima County) to join us in this effort."