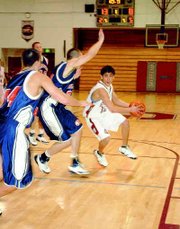 GRANDVIEW - Twice this season the Grandview boys basketball team has beaten the Ellensburg Bulldogs, so it wasn't too far of a stretch to think last night's game would be any different.
The Bulldogs felt differently. Ellensburg stayed close to Grandview for three and a half quarters before pulling ahead for good towards the end of the game to post a 60-52 win against Grandview in a first round District tourney game.
"We got off to a good start and played pretty well," Grandview Coach Scott Parrish said. "Ellensburg then started to pressure us and we didn't handle it very well."
Behind Ethan Rosser's 20 points and J.J. Ulmer's 10, Ellensburg weathered a 16-8 first quarter surge by Grandview. The Greyhounds stretched their lead to 19-8 early in the second period before the Bulldogs mounted their comeback, a comeback that took almost three quarters to complete.
Grandview led 25-22 at halftime and just 39-38 at the end of the third quarter.
"We didn't defend as well as I would have liked," Parrish said of his team's performance in the final period.
Noting Ellensburg got some open looks, Parrish said the Bulldogs gradually took the lead from Grandview sometime in the middle of the fourth. After that it was a one-point lead for the Bulldogs, then a three-point lead. When Ellensburg got up by five the Greyhounds were forced to foul.
Kevin Hinckle was a perfect 4-for-4 from the free throw line down the stretch to ice the win for Ellensburg.
Nick Sears led the Greyhounds with 15 points. C.J. Lopez and Rogie Fajardo were held to just eight points each.
Parrish said Ellensburg employed a zone defense and extended their guards out to harass Lopez.
The loss sets up a loser-out 8 p.m. game this Friday, Feb. 22, against Selah High School at Selah.
Grandview swept Selah this year in league play.