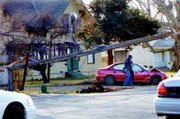 Early Wednesday morning Sunnyside police officers were alerted to a carjacking that took place in Union Gap.
According to Sunnyside Police Sergeant Kent Coffman, the Sunnyside Police Department had also received reports that the suspects believed to have been involved in the Union Gap carjacking were attempting to steal vehicles in Sunnyside's Cascade Way area.
While looking for the vehicle described in both the Union Gap incident and the Cascade Way reports, at approximately 8:30 a.m., Sunnyside Police Officer Robert Layman located the vehicle in the parking lot of the Townhouse Motel in the 500 block of Yakima Valley Highway.
Coffman said Layman reported the sighting and other officers arrived at the scene to find a passenger from the vehicle, identified as Ricardo S. Valencia, 18, exiting the vehicle.
Coffman said the driver, identified as Jose F. Patina, 20, of Sunnyside backed the vehicle into two Sunnyside police vehicles and nearly ran over two officers.
"He backed onto Yakima Valley Highway and then went north on Sixth Street to North Avenue," said Coffman, stating a pursuit took officers Scott Orate and Sam Ramos to Victory Way, Beckner Alley, Rouse Road and 11th Street.
"He (Patina) lost control of the vehicle at 11th and Harrison," Coffman recounted, stating Patina then hit a power pole in the 900 block of South 11th Street, snapping the pole.
Sunnyside police officers were assisted by Washington State Patrol Trooper Tom Mortensen in pursuing Patina on foot at the scene.
Patina was arrested and the Sunnyside Police Department is seeking charges of felony eluding, two counts of second degree assault and possession of stolen property.
Charges against Valencia have yet to be sought as the case is still under investigation.
Union Gap police detectives will process the vehicle for the carjacking case.
Meanwhile, the power is out at Sunnyside Community Hospital and neighboring homes. The hospital is using back-up generators, according to Public Relations Director Tom Lathen.
Four patients were scheduled to go into surgery, but because of the outage the surgeries were unable to begin. They are on hold until there's full power, according to Lathen.
He said the ICU has full power and no babies were being born at the time of the outage.
"The timing was pretty good in that regard," Lathen commented.