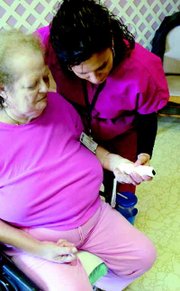 Hillcrest Manor & Rehabilitation Center Director Mary Arthur notes one of the first things taken away from elders is the right to drive. These days the elders at Hillcrest Manor are rebelling and taking to the streets once again.
Of course the streets are simulated and for that matter so is the driving. The elders are rebelling with the latest game craze, the Nintendo Wii.
Arthur said she received an e-mail from David Moon, regional administrator of Residential Care Services, sometime back. Moon explained the benefits of the gaming system in his e-mail, stating it helps with socializing, hand-eye coordination and exercises the upper body.
Arthur said she conferred with her staff before any decisions were made.
"I didn't even know what it was," she said of the Wii.
Arthur bought one just after Christmas and the effect the game has had on the elders has been noticeable.
"You see the excitement in their expressions," said Heli Martinez, an activities assistant at Hillcrest Manor. "Even the ones that can't use their hands like to watch."
Martinez said with the new game it's like the elders are little kids again, a thought that is agreed upon by elder Teri Henrickson.
"They can be at it for hours," Martinez said with a nod at Henrickson.
"Yup," she agreed.
For now the game is used in the elders' activities just once a week but the staff plans to increase the Wii time to include Monday, Wednesday and Friday after dinner, as well.
The game where the elders drive a car is by the favorite of the residents, but bowling is a close second. A fishing game will be purchased next.
A Wii is an interactive game console that uses the player's body movement to control the action. So when a bowling game is being played, the player goes through the motion as if he were actually bowling.
Arthur said there are plans to buy a steering wheel for the driving game and an actual fishing pole when the fishing game is purchased. To make things more realistic, she says.
"It's wonderful how modern inventions can touch the lives of the elders," she said.