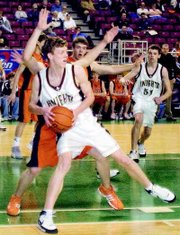 YAKIMA - Valuing the basketball and connecting from the perimeter were Coach Dean Wagenaar's mantras when his Sunnyside Christian High School boys basketball team hit a rough patch earlier this season.
That now seems like ancient history, as yesterday the Knights (17-5) valued the ball, hit from outside and did plenty more in a 48-20 shellacking of Odessa in the first round of the State 1B boys basketball tourney.
Sunnyside Christian struggled early in Wednesday's game at the SunDome, trailing 7-4 late in the first quarter, then righting the ship with a 15-4 run to go up 19-11 at the half. The rout was on from there.
"Patience," Wagenaar said, was the key to the turnaround.
After the Knights pounded the ball in early to Joel Koopmans, who responded with a game-high 17 points, teammate Danny Van Boven got the Knights rolling and stretched the Tigers' defense by canning a trey just before the first period ended. Koopmans was the only player for either team in double figures.
Tied at 7-7, Van Boven then helped Sunnyside continue the momentum, following a Jason Friend free throw with a bucket to make it a 10-7 game.
The inside-outside game continued for Sunnyside Christian, as Jesse Brouwer and Marc De Jong also hit from the perimeter to keep Odessa honest.
But it was on the defensive side of the ball where the Knights really won the day, forcing 15 Odessa turnovers, while only committing eight of their own. Wagenaar gave his team a "9.5 out of 10" on the defensive front.
The Knights also collected 12 steals, paced by Van Boven, who picked the Tiger offense four times.
Odessa came into the contest averaging more than 50 points a game but the Knights held the Tigers to less than half of that, including outscoring Odessa 29-9 in the second half.
If it wasn't Van Boven harassing Odessa at the point, it was towering teammate Jason Friend in the paint frustrating Odessa's leading scorer, senior post player Travis Todd.
At 6'3" Todd pretty much had his way during the regular season, averaging nearly 13 points per game. Todd was no match for the 6'6" Friend, who was decidedly unfriendly in limiting the Odessa big man to just four points and an 0-fer (0-for-6) from the field.
"They expected to get 45 (Todd's number) inside and Jason said no way," Wagenaar noted in praising Friend's defense. Friend also had a game-high six rebounds to go with two blocked shots and a steal.
Wagenaar said the Knight defensive strategy was a match-up zone to identify and shut down Odessa's scoring threats.
Sunnyside Christian did that plenty well enough in taming the Tigers.
The Knights play Rosalia (18-8) today in the quarterfinals at 5:30 p.m.