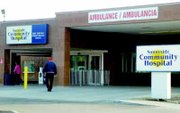 Sunnyside Community Hospital is one of only three hospitals in Washington state that recently received two certificates of commendation recognizing its successful engagement in two-year national quality improvement programs to enhance patient safety.
One program, called systems improvement and organizational culture change, aims to enhance an organizational culture of patient safety through instituting a bar-coding point of care program.
The bar code uses automated programming, similar to that in supermarkets, on patient ID bracelets to assure a correct match on medications. It also assures correct match to the patient for orders for surgical or other procedures. Hospital CEO Jon Smiley said the bar code is a work in process and will be fully implemented in the next 18 months.
The hospital was also recognized for installing an employee patient safety survey to assess, promote and reassess the hospital's organizational culture of patient safety.
The hospital now enters medication and treatment orders via computer, assuring accuracy and avoiding possibility of error due to penmanship, both by the physician and hand copying by clerical personnel.
Qualis Health, the Medicare quality improvement organization for Washington and Idaho, recognized the hospital's work during the period December 2005 through December 2007 to assess its current state of readiness for such computer system improvements and its own employee's appraisal of the status of patient safety.
The hospital received special recognition for undertaking the two programs at the same time.