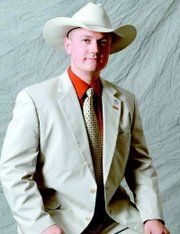 If you're looking for a knee-kicking, foot stomping good 'ole time, Sunnyside Friends of Bluegrass has something special in store for you. They are gearing up to present Oregon's Zach Driscoll and the Three-Quarter Time band at Bon Vino's Saturday, March 1, at 6 p.m.
Driscoll has been singing since he was five-years-old and playing the guitar and mandolin since he was 17. He also has served a distinguished military career.
"I served three years active service in the U.S. Army," said Driscoll. For his service, he has earned an Army Commendation Medal, two Army Achievement Medals, one Good Conduct Medal, one Korean Defense Service Medal, one National Defense Medal, a Global War on Terrorism Medal and an Overseas ribbon. Driscoll currently serves out of Headquarters Company, 1249 Engineer Battalion in Salem, Ore.
"I have trained and been stationed in Fort Lewis, Washington, Camp Sherman, Panama, Schofield Barracks, Hawaii, Fort Hunter, Liggett, California and Camp Howze, Korea," he said.
After his honorable discharge from the Army, Driscoll made his way to Tennessee, where he briefly played mandolin with James Monroe and the Midnight Ramblers. He spent the next two years in Nashville, where he ultimately met his wife, Laura.
After he returned to Oregon, Driscoll assembled a band to perform a benefit concert for his stepfather, who had been diagnosed with throat cancer.
"The show was such a success that I did a repeat appearance at the same church later that year, and Three Quarter Time was formed," he said.
Career highlights include opening the Oregon Jamboree in 2006 to a sold out crowd of 4,000. In 2004, he opened for renowned country artist Lee Ann Womach.
Driscoll will perform in Sunnyside Saturday, March 1, at Bon Vino's. The doors will open at 5 p.m. and the music will begin at 6 p.m.
Tickets are priced at $14 and are available at Bon Vino's.