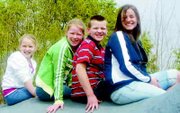 Young Jacob and Nathan Pfaff, 7 and 3, can hardly wait until their little sister arrives.
"Every night they pray for their little sister before they go to bed," said Toby Pfaff. "For all we know, she may not even be born yet."
Toby and Emily Pfaff are currently in the process of adopting a little girl from El Salvador. They are currently working through an agency called "America World."
Toby Pfaff said he and his wife were originally considering adopting a child from China, but that fell through when the country uncovered unfavorable conditions in orphanages there and suspended adoptions.
"We're of the opinion that there are needy kids all over the world and we're not picky about what country they come from," he said.
He said that he and his wife knew they wanted to have another child, but that Emily is prone to difficult pregnancies.
"It had been on her heart a long time (to adopt)," he said. "Until (she) had brought it up that she had it on her heart, I just really hadn't considered it that much." At that point, he said he and his wife began to look into the possibility and give it prayerful consideration. "Pretty soon, I was behind my wife 100 percent," he said.
He said he feels orphaned children are perhaps better cared for in the United States than in some countries.
"When you go to some of these countries where mothers are literally leaving their children in the parks or road, there's definitely a need," he said. "The situation is so much more dire in some of these under-developed countries."
He added he can see God's hand in the process they are currently going through. The agency they selected gives the couple step by step instructions and explains how much time each step should take. He said the process has gone much smoother and much quicker than anticipated.
So far, he said, the process has "taught us to really trust in the Lord and be patient." He also noted that other people have been able to see "how God has blessed what we are trying to do."
The Pfaffs have everything in order for when the call comes to trek to El Salvador to pick up their daughter. Pfaff said it's not uncommon when he and his wife Emily are heading out the door for Jacob and Nathan to ask if they're going to go pick up their little sister. "They're really impatient," he said with a laugh.
Unlike the Pfaffs, Randy and Cassie Dalrymple chose to adopt children from the United States.
The Dalrymples had already adopted two children, who had grown and moved out of the house. "We got the empty nest syndrome," said Cassie Dalrymple.
They adopted Michael Bowers in 1992 when he was 11-years-old, and Fatima Dilek in 2001, when she was 17.
"We had talked about adopting another child or two," said Dalrymple.
She said that in the same breath the caseworker informed the Dalrymples their paperwork was done and their home study approved, the caseworker said, "Would you like four (children)?"
Recalls Dalrymple, "I said yes without hesitating."
Since then, their quiet household has become "chaos. Wonderful total chaos," she said.
It was 2004 that the Dalrymples adopted siblings Melissa, then 6, C.J. 7, Rita, 8 and Rene, 10.
When the Dalrymples met their children while the kids were on spring break, they all went to Dinosaur Park in Granger. Each year, as a celebration, the kids return for a family portrait on the anniversary date of the day they met. They sit on the same dinosaur, and the kids all strike similar poses to the one in the first picture.
"That dinosaur is very significant," said Dalrymple. "We've teased them all that they're going to have their senior pictures taken on the same dinosaur.
"They love that park. I don't know why, other than it was a significant change for them."
Dalrymple feels profoundly blessed with her now large family. The kids range in age from 15 to 10.
"God has answered our prayers for a full home. In a big way," she said.
They attend Christian schools here in Sunnyside and are thriving, she said. Rene, she said, has a beautiful and caring heart. Of Rita, she said, "She's got a beautiful spirit; she's talented and athletic." C.J., she said, is eager to lead and to prove he can accept responsibility. Young Melissa is the family's "fashion princess," and is also extremely witty and very loving.
Dalrymple has a word of advice for individuals considering adoption.
First, don't be afraid to adopt older children. Second, "Don't be intimidated by the paperwork...it's just a safety precaution for the children."
Grandview's Bill and Rachel Moore have also adopted. They adopted their three grandchildren while their mother struggled with a drug problem. Their home increased with the addition of Natasha, now 8, Alyssa, who will be 4 in March, and Carissa, 4.
Mrs. Moore said the children were taken from their mother when the youngest was a newborn and had tested positive for methamphetamine. Suddenly, the Moores found themselves juggling full-time work schedules and caring for their grandchildren.
"Initially, we hadn't even thought we'd end up adopting them. We thought things were going to change (with the girls' mother) and they didn't. Then we heard they were going to be put up for adoption," said Mrs. Moore
The Moores knew if the girls were split up and adopted by other families, they may never see them again.
"It was important for us to keep the family together," said Mrs. Moore.
The Moores have had the girls for four years, the adoption has been final for close to two years.
They went from believing their child-rearing days were over to starting over again.
It was quite a change. "If we wanted to get up and go, we got up and went," said Mrs. Moore. Now when they want to go somewhere, they must first find an available babysitter.
On a recent weekend getaway with her husband, Mrs. Moore said, "I missed them (the girls) so much, it was awful."
It was quite an adjustment.
Mrs. Moore said that Child Protective Services currently pushes for children to be adopted by family members, which is how they adopted the girls. Although she can't imagine life without the girls, she wonders if they hadn't adopted them, if their mother would've "straightened out."
Mr. Moore said he feels family is important. "If you can get them with good family, I think that's important."
Though adopting the children surprised them, they can't imagine life any other way.
"I can't imagine not having these kids," said Mrs. Moore.
"Even though it's a struggle sometimes at our age as we get older, I'd do it again," said Mr. Moore. "I've learned more about relationships with them than I have in past years."