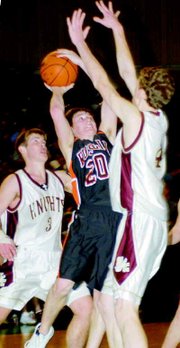 YAKIMA - Using a vise-like defense, the Sunnyside Christian High School boys basketball team punched its ticket into this afternoon's semifinals of the State 1B basketball tourney with a 43-25 win over Rosalia yesterday.
Thursday's contest marked the second consecutive game at the tourney, held in the SunDome, in which the Knights held their opponents to 25 points or less.
"Our defense has found its personality playing old school basketball" said Coach Dean Wagenaar. That "personality," he adds, includes shot blocker Jason Friend in the paint and everyone else playing what Wagenaar calls, "tough, in-your-face position defense."
Sunnyside Christian got in the Spartans' face early, forging an 11-4 lead after one quarter and 23-11 advantage at the half.
While the Knights' defense clicked, Sunnyside Christian's offense clanked a few wide open shots in the second quarter. That, Wagenaar observed, began to shake his team's confidence on the offensive side of the ball.
"We went four minutes without a bucket in the third quarter," the coach noted. "We had some good looks but couldn't hit."
Rosalia cut the Knight lead to 23-16 before Sunnyside Christian found the bottom of the net on a Jesse Brouwer three-point play and a Marc De Jong jumper from the foul line.
That made it a 28-16 ball game and the Knights were never seriously threatened from that point.
Wagenaar said besides a stingy defense, the other keys to Sunnyside Christian holding on through the third quarter was rebounding and ball handling.
For the contest, the Knights committed just two turnovers against a pressing Rosalia defense. Sunnyside Christian collected 16 offensive rebounds for the game, four coming in a two-minute series in the third stanza in which Sunnyside repeatedly missed the bucket and collected the carom.
Up 30-19 heading into the fourth quarter, Sunnyside Christian spread the floor and began to run plays for leading scorer Joel Koopmans.
The Spartans were forced to foul and Koopmans was the chief beneficiary, hitting seven-of-eight free throws on the way to 11 points in the quarter.
Koopmans led all scorers with 26 points to go with six rebounds. Brouwer collected a team-high seven rebounds. The Spartans were led by Jim Maley's 10 points and eight rebounds.
Defending champ Sunnyside Christian (18-5) will look to regain its shooting touch in today's semifinal contest against last year's fifth-place trophy winner Entiat (20-2).
"They are very athletic, it's going to be interesting," Wagenaar said of playing the Tigers.
If things get too interesting, the Knights will likely rely on that iron-clad defense.
"It may not be the most entertaining to watch," Wagenaar said of his team's defensive chess match.
Entertaining or no, a win today vaults the Knights back into Saturday's 7 p.m. championship game with a chance to defend their title.