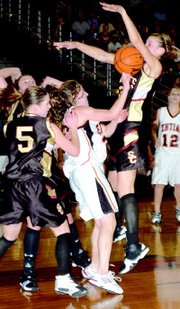 YAKIMA - Two down, one to go to reach the championship tilt of the 1B State girls basketball tournament!
The Sunnyside Christian High School girls basketball team staved off a late game rally by the Entiat Tigers last night to earn a spot in today's 9 p.m. semi-final game in the Yakima SunDome. A victory over Garfield-Palouse tonight would advance the Lady Knights into Saturday's title game.
Last night's 49-45 quarter-finals victory over Entiat followed Sunnyside Christian's 59-28 win over the Mary Knight Owls in the opening round at State on Wednesday. Thursday's win, however, didn't come as easily for the Lady Knights.
Early on yesterday, it appeared as though Sunnyside Christian had firm control over the Tigers. The Lady Knights forged a slim 22-20 halftime lead, extending the advantage to 39-31 through three quarters of play.
Sunnyside Christian's girls found themselves up by 14 with 4:06 remaining in the game, but then the roof collapsed on the Lady Knights. Entiat got hot, thanks to three shots from behind the 3-point arc by senior Shawnee Ledbeter, which drew the Tigers to within 47-44.
It didn't help matters any that Sunnyside Christian began tossing the ball away in the waning minutes of the game. Those turnovers led to the Lady Knights going scoreless from the 4:06 mark until there was just two seconds showing on the clock.
"We had handled their press pretty well the entire game," said SCHS Coach Al Smeenk, "But there at the end we made a couple of silly mental mistakes.
"We were a little tentative in the late going. We might have been a little fatigued," he said.
Entiat had an opportunity to tie the game when sophomore Taylor Montgomery went to the free throw line, with five seconds left, to shoot three foul shots, after she was hacked on a shot attempt from behind the 3-point arc. She was only successful on one of her attempts, though, which drew the Tigers to within 47-45.
Entiat quickly fouled senior Andrea Schutt, and with two ticks remaining she calmly drained both free throws to give Sunnyside Christian the 49-45 victory.
The 6'0" Schutt finished with a game-high 22 points Thursday evening, which included drilling two 3-point shots. The Lady Knights also received a 12-point effort from senior Emma Newhouse, who hit Sunnyside Christian's two other 3-pointers in the game.
Entiat (21-3) was led by Ledbeter and Montgomery with 17 and 11 points, respectively.
Sunnyside Christian (21-2), which is seeking a second straight appearance in the 1B State tourney title game, has a tough opponent in tonight's semi-final contest in the likes of Garfield-Palouse (22-4). The Vikings easily defeated Sunnyside Christian in a summer camp match-up last year.
"Garfield-Palouse is very aggressive. They're well-balanced and very physical," said Smeenk.
"They pretty much stay in an aggressive, man-to-man defense.
"We can't be intimidated by their aggressiveness
"We're going to have to execute our half-court offensive sets well, while setting some aggressive screens of our own.
"Defensively, we'll be playing zone tonight," said Smeenk, also noting that he plans on substituting more freely than he has in the first two games at State.
"It's going to be a tough one tonight," he said.