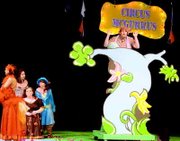 "Oh, the things you can think if you're willing to try!"
That sentiment in song prevails from beginning to end during "Seussical," which opened at Sunnyside High School this past weekend.
The musical interweaves beloved Dr. Seuss characters such as The Cat in the Hat (Matt Barr), Horton the Elephant (Riley Moore) and The Grinch (Arthur Lavieville).
Things get started when the young JoJo (Cassie Herndon) finds the red and white striped hat associated with you-know-who. "That is a very unusual hat," JoJo says.
The little Whoville resident lets his imagination run wild from there, as "Seussical" takes us on a colorful, imaginary adventure that ranges from dancing fish to an elephant sitting in a tree.
Things wrap up when JoJo and the microscopic Whoville clan are finally heard by the rest of the world.
The final scene leaves us where we started, with JoJo admiring that "unusual hat."
With spot-on acting, singing and set design, Sunnyside High School students under the guidance of Corey Murphy take you away from the every day and, for a few hours, jump in the wild, magical world of Dr. Seuss.
Barr is brilliant as the Cat in the Hat, equal parts showman, TV host interacting with the crowd-think Phil Donahue with whiskers-and mischievous prankster.
Speaking of crowd interaction, more than once during "Seussical" the characters seemingly pop out from the audience, which give even more of a close connection between performer and audience.
In costume design, Sunnyside High School pulls off the challenges Seuss poses, like Gertrude the Peacock (Emily Shuttleworth) whose feather collection magically grows from one to a bunch.
Even the not-so-nice characters in Dr. Seuss' world come off with their own charm, as Emily Slinker's double-wide hairdo and sassy style fit the Sour Kangaroo character perfectly.
There are other nice touches as well. A shark joins the sure-footed dancing fish, for example, and caused a stir of laughter as it tried to do the twist with dorsal fins in tow.
Even at the end, the very end, as actors took their final bow behind the closing curtain, the little Elephant Bird (Mackenzie Murphy) somehow ended up in front of the curtain, only to be pulled back by an arm that reached out from the curtain at the last second.
Let Sunnyside High School students pull you into the humorous world of Dr. Seuss by attending one of the three final performances this week: Thursday, Feb. 28, at 6 p.m., Friday and Saturday (Feb. 29 and March 1) at 7 p.m.
All performances are at the Sunnyside High School auditorium.