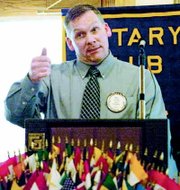 Eastmont High School in East Wenatchee will be moving up a classification next year from 3A to 4A due to enrollment numbers. The Kennewick high schools: Southridge, Kamiakin and Kennewick, will also move up to 4A due to a decision by the Kennewick School District.
All this maneuvering leaves Sunnyside High School one of just three 3A schools in the area, the other two being Hanford and West Valley.
How to form a league in these circumstances was the topic of discussion at this past Monday's Sunnyside Noon Rotary Club meeting.
Sunnyside High School Athletic Director Bill Daley told Rotarians a tentative league has been set up called the Columbia Basin Big Nine. The league will consist of 14 high schools in two divisions: Davis, Pasco, Wenatchee, Kennewick, Sunnyside, Southridge and Moses Lake in the Columbia division, and Eisenhower, Eastmont, Kamiakin, Richland, Hanford, West Valley and Walla Walla in the Cascade division. Chiawana High School, a new school being built in Pasco, will join the Cascade division as the league's 15th team for the 2009-10 school year.
Daley explained to the Rotarians the league agreed on this format with football and 20-game sports, such as boys and girls basketball, baseball, softball and wrestling.
In year one of the two-year scheduling cycle for football, week one will be an open week for teams to play whomever they wish. Weeks 2-8 will be for divisional play with the one bye week set aside for rivalry games and 3A match-ups. Week nine will be for divisional crossovers and 3A match-ups to determine Regional qualifiers and week 10 will be for crossover games with the Greater Spokane League.
In year two, Chiawana High School will join the league, which will eliminate the bye week for the Cascade division, forcing the Columbia division to find fill-in games.
In all other sports, including the 16-game team sports (boys and girls soccer and volleyball), the Columbia Basin Big Nine will be a single league with 14 teams and no divisions. For these sports Sunnyside will play each team in the league once.
Daley said he doesn't think the Columbia Basin Big Nine name will stick. It's the nine that is the sticking point, with some schools wanting the name to represent the former Big Nine League. Daley said the name would probably be something like the Columbia Basin Conference.
As far as the 3A playoffs go, since there would be only three 3A teams in the new league and they would be playing mostly 4A schools, each team would advance to District play regardless of the school's record. Sunnyside will play each 3A school at least once and those games will be used to determine seedings at District tournaments.
Under the proposal, the three 3A schools will combine with the Greater Spokane League 3A schools for the postseason. These include East Valley, North Central, Mount Spokane, Rogers and possibly Shadle Park.
Daley said Eastmont High School is only six students over the 3A classification and when schools are reclassified in two years, Eastmont could be a 3A school again.
A possible amendment forbidding schools from opting up to a higher classification coupled with Eastmont becoming a 3A school again could mean the formation of a new league in another two years.