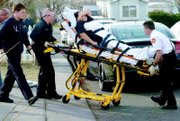 Sunnyside police were called to the 100 block of Parkland Drive at about 9:15 a.m. today (Wednesday) for a report of gunshots.
On arrival police found a woman with a gunshot wound to her leg.
Sunnyside Police Sgt. Kent Coffman said the woman had been sleeping when an unknown person fired a single shot into her home from outside. The woman was transported to Sunnyside Community Hospital.
The weapon used in the shooting, a bullet and a casing were recovered at the scene.
Coffman couldn't confirm whether the incident was gang related. The owner of the home was cited for maintaining a public nuisance. According to Coffman, there have been other incidents at the home.
In other police news, a female told police she was kidnapped around 7 or 8 p.m. on Tuesday by at least three unknown people. She told officers she was forced into a vehicle and driven around while her abductors made threats against the woman and her family. She said she was then released.