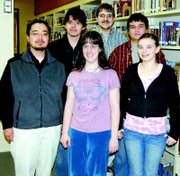 SELAH - Grandview High School's Knowledge Bowl team, comprised of Sarah Mueggler, Jaselynn Reavis, Juan Rios III, Wesley Gamble, Jacob Marquez and led by Kelly Ledgerwood, traveled to Selah on Feb. 20 to participate in Regional competition.
Grandview did not advance to State competition, which is slated for mid-March.
Each high school is allowed to field one team of up to six members in a competition that tests the students' knowledge in a broad range of areas.
At Regionals, each competition began with a written round, where students worked together to solve a list of 60 multiple choice questions. Three oral rounds followed in which teams competed against one or two other schools in answering questions.